For any journey in life, having a strong mind, body, and soul connection can greatly improve your chances for authentic success on all levels – without unhealthy stress and confusion tripping you up along the way.
Join your hosts of the Miracle Makers' Podcast and Tina Castaldi and Ryan Matthews as they discuss how to enhance and amplify the Mind, Body, and Soul Connection with shamanic fitness and sound alchemy so you can shine bright as a miracle maker!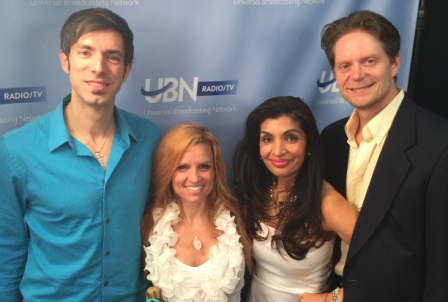 Listen to the audio podcast!
Watch the video recording!
Tina Castaldi (aka Athena Starseed) is a Life Coach, Fitness High Priestess and pioneer of America's first out door fitness craze called BootCamp!  She has been training souls around the country since 1987.  Her expertise was developed over her dynamically diverse experiences through theatre, dance, acting, singing, self help, meditation,  group fitness, aerobics classes and personal and outdoor  training programs.
She has been in the health and wellness profession for over 29 years. Born a natural athlete she performed as a gymnast for the first 10 years of her life.  At age 11, Tina's life took a dramatic turn when she was diagnosed with a very rare bone disease. She was told she would have less than a 5% chance to ever walking again.  She was  immediately sentenced to a wheelchair and struggled with the simplest of physical tasks for the next 4 1/2 years, this physical adversity challenged her optimistic attitude to the very core.
It was 'HERE' where her true spiritual growth began to blossom through the wisdom of her childhood.  "What does not kill us make us stronger."was a quote she would reflect on a daily basis.  All life happens for a reason she thought, and sometimes we don't find that reason out until much later in life. The main gift  she received was GRATITUDE for the miracle of the physical body!  It has become her life's work and her Legacy to continue to share this experience with everyone she meets!
To learn more about Tina and her Castaldis Bootcamp click here: http://www.castaldisbootcamp.com/home.html
Ryan Matthews is a modern sonic alchemist. It's long been told that through the art of alchemy, it is possible to transmute lead to gold. The alchemical process is a magical process which can transform and enlighten. Ryan does this through sound. By combing live music production, instruments, and textures, Ryan casts an alchemical web of sound that acts as a tuning fork, raising our vibration and tuning us up to natural flow of the universe through grace and ease.
As a classically trained musician at the country's premier music conservatory, he performed in concert halls around the world, touring with symphony orchestras under the direction of the world's top conductors. As an electronic music producer, he has performed at top festivals, including Live Nations' 'Made In America', and has worked with recording artists Dezmond Meeks, Paolo Ramirez, Sarah Emerson, and many more.   To learn more about Ryan and his sound alchemy click here at: http://ryanmatthewsmusic.com/