Are you ready for answers to questions such as what traditions, prophecy, and wisdom have been passed down from chief to chief?
Please join your hosts of the Miracle Makers Podcast and special guest Chief Phil Lane, Jr. as they discuss the native wisdom of the ages, legacy, and prophecy.
What are the prophecies of the Natives?  How you can live connected to Mother earth and Natural Laws?  What do the tribal nations of every land offer as gifts? What is the most sacred ceremonies of all ceremonies!  How do we know we have a soul?
We can't wait for you to receive this native wisdom for creating miracles in your life and for discovering your life's purpose.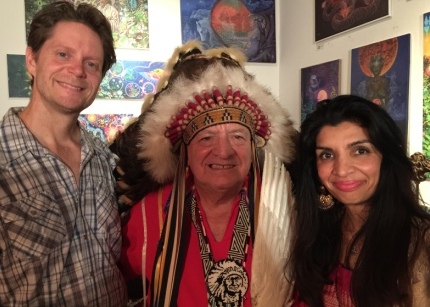 Listen to the audio podcast!
Watch the video recording!
Chief Phil Lane, Jr. is a traditionally recognized Hereditary Chief and Elder. He is an enrolled member of the Ihanktonwan Dakota and Chickasaw Nations, and is a citizen of both Canada and the United States. With Master's degrees in Education at National University and Public Administration at the University of Washington, Chief Phil Lane, Jr. is an internationally recognized indigenous leader in human and community development. The founder and chairman of the Four World's International Institute (FWII), an organization dedicated to "unifying the human family through the Fourth Way",Chief  Phil Lane, Jr. is the recipient of many awards, including the John Denver Windstar Award, and is a frequent speaker on behalf of indigenous rights and wisdom.
For more on Chief Lane, please visit:  http://www.fwii.net/
Connect on Chief Lane on Facebook