Are you depressed and looking for help?  Are you wondering if healing from trauma or PTSD is possible?  Do you need help with a loved one that may be suffering?
Please join your hosts of the Miracle Makers Podcast and special guests Edward Tick, Ph.D. of Soldier's Heart and Charlie Pacello of CharliePacello.com as they discuss the nature of trauma and PTSD and practical steps you can take to heal.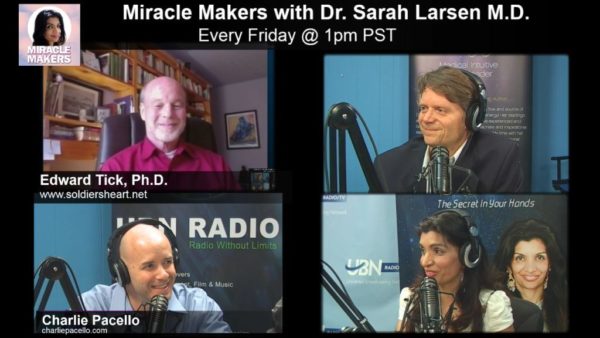 Listen to the audio podcast!
Watch the video recording!
Edward Tick, Ph.D., is Executive Director and Co-founder of Soldier's Heart.  He is also a Soldier's Heart Program Leader.
Honored for his groundbreaking work in the spiritual, holistic and community-based healing of veterans and Post-traumatic Stress Disorder (PTSD), Dr. Tick has been a psychotherapist for 38 years, specializing in working with veterans since the 1970s. He is the author of Sacred Mountain, The Practice Of Dream Healing, The Golden Tortoise, Wild Beasts and Wandering Souls and the award-winning book War And The Soul. Ed's next book, Warrior's Return, will be published in November 2014.
Connect with Soldier's Heart on Facebook.
Charlie Pacello graduated from the United States Air Force Academy, and served as Chief of the US Nuclear Detonation Detection System (USNDS) Mission Processing for the GPS/NDS program based at Los Angeles AFB. He worked on the front lines of nuclear warfare and was responsible for the operational acceptance and readiness of mobile units that would only be used for Integrated Tactical Warning/Attack Assessment and Nuclear Force Management – end-to-end nuclear war. Currently Charlie has a Life Coaching practice working with Vets and others who suffer from PTSD, depression, trauma, or stress.
Connect with Charlie on Facebook.