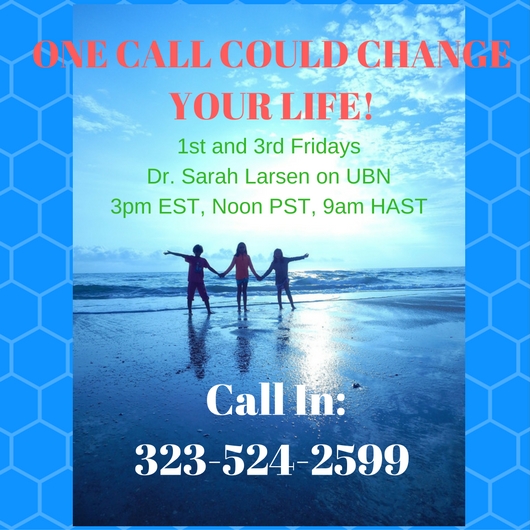 Your life matters!  You being fully expressed, authentic, and filled with the ability to transform your mind, body , and spirit is possible!
These readings are for you as a gift!
Dr. Larsen, is available for you, every first and third Friday of every month!
She is here to help you realize you!
It is amazing to hear her transform lives in just 5 minutes!
This extraordinary time allows her to give to you as freely as she can!
Dial: 323-524-2599 First and third Fridays every month at noon PST!
……………………………………………………………………..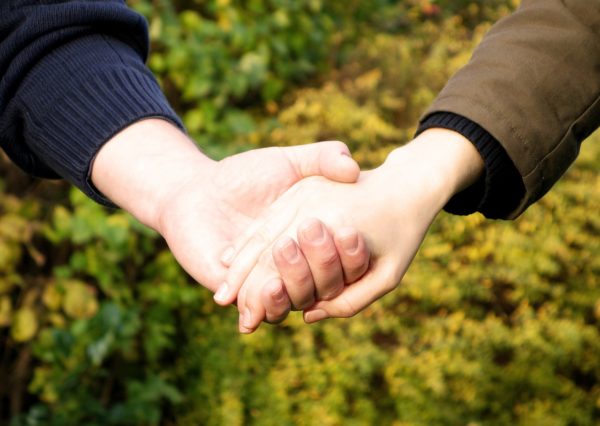 You are cordially invited to Creative Chakra Spa. Dr. Larsen's office in Marina Del Rey!
Creative Chakra Spa has been part of the Marina Del Rey community since 1998.
It is a community hub focused on serving your Holistic Health needs, Community Activism, and contributing to Global Awakening!
Personal Development for Extraordinary People, Miracle Makers, and Dr. Sarah Larsen have been serving the community in the Los Angeles area since 2003!
Meal, Movie, Meditation, and Mission
Miracle Makers to help you!
Awaken the Miracle Maker within you!
This Monday: August 14th
Movie on Health and Food
Medical Intuitive Readings with Dr. Sarah Larsen
for those that come between 6 and 7 pm on a first come first served basis!
Gathering and potluck begin at 7 pm:
You sharing with the community what you want help with begins at 7:30
Movie after each of us share!
http://drsarahlarsen.com/dr-sarahs-events/
I love you!
Because to me, you are an extension of me!
There is nothing you aren't forgiven for!
There is nothing you can't change while you are alive!
Hope, Faith, and Science show us we are all the same!
You are invited, wanted, and welcome!
I just want you to know:
We will have Monday Night Potlucks, Movies, and Missions till Sept 18th!
(Then we will start the exclusive Masterminds!)
Do you have a friend you always wanted to benefit from your Miracle Maker and Personal Development Community?
We want to help as many people as we can this Summer!
Because we know and believe we are one!
This Fall, we will change formats to have our small and powerful Miracle Makers Mastermind Group!
Because we know a small group of committed people can change the world! (Paraphrasing Margaret Mead)
……………………..………….
August 14, 21st, 28th and Sept 4, 11, and 18th are for the community! Gatherings for you to invite all those that can benefit!
August 14th is all about your health and a very quick reading will be given to everyone that arrives between 6-7 pm before the event!
Readings, Movies, Miracles, and group support for $20 till Sept 18th!
Thursday, Sept 21st with the New Moon! We shift:
Fall fun: Ancient and New Science Mastermind Fun!
Miracle Makers Mastermind at Creative Chakra Spa!
There are amazing changes for our Miracle Makers Mastermind!
This Monday:
Medical Intuitive Readings with Dr. Sarah Larsen
for those that come between 6 and 7 pm on a first come first served basis!
Gathering and potluck begin at 7 pm:
You sharing with the community what you want help with begins at 7:30
Movie after each of us share!
……………………………………………………………………………………………………………
Thanks to you, Dr. Sarah Larsen's work has 14K followers on Facebook, Over a Million views on various channels on Youtube, and has been on TV, Radio and the internet reaching people of every nation on earth.
We could not have been where we are without you.
Creative Chakra Spa
Park on the Southside of lot at the end of Washington Blvd. We will be the happy Bunch!
Monday night: Meal, Movie, Meditation, and Mission begins July 31st
Most arriving at 6:30 pm for
Creative Chakra Yoga
$20
Pot Luck – bring your most amazing dish!
Honoring You!
We also have the award winning movies!
Dr Sarah Larsen: 3 spot readings every gathering
Greg Larsen: Heart activations
Donna Obdyke: Higher Brain Living and Reconnective Healing Session are a major sponsor of these events! Donna Obdyke  pictured here with Bernie Sanders: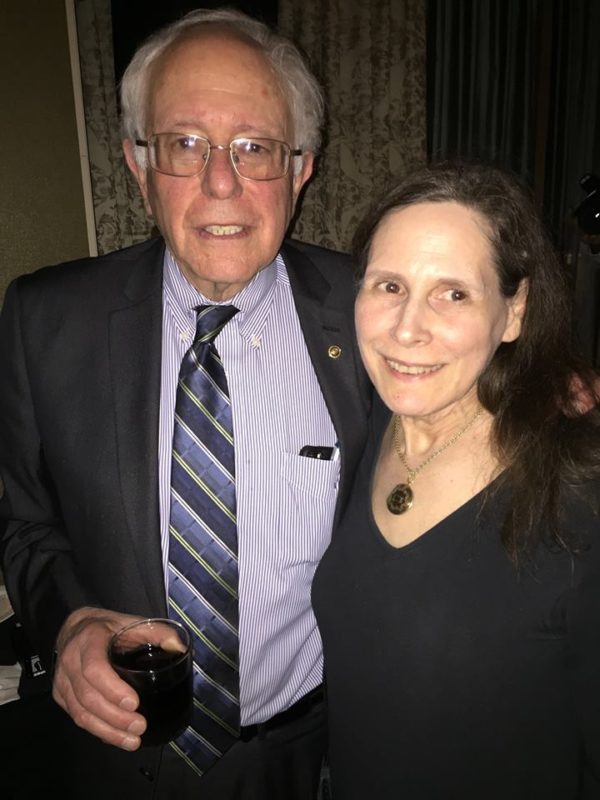 Movie and Potluck Dinner
9:30 Questions and Answers
Mission: Part of the door money goes to a miracle maker in the community on a great mission
Throughout the event, we will have moments of honoring  you, the Earth and the Rituals practiced throughout the world!
We will be honoring Source, G-d, and Love with every event!
To join us RSVP: drsarah@drsarahlarsen or 424 757 4197
All of this for our Oneness, Goodness and for God!
Sponsors:
Creative Chakra Spa
3401 Pacific Avenue 2A
Marina del Rey, CA 90292
Meals With Marie
Miracle Makers
Dr. Sarah Larsen
Donna Obdyke
Art of Living by Monique
————-
——-
 Miracle Makers Mastermind
Transform Your Energy Body for Success and
The Success Principles Mastermind Series
    Live Study Group and Mastermind
Mondays: Marina Del Rey, CA and Zoom
$108 per class
You will have a personal makeup time for classes you miss with Dr. Larsen
You will not miss out on what is meant for you! You have been missing what is possible for you!
You will heal your life! You will have greater success!
This mastermind is based what you need and draws on the teachings of Dr. Sarah's intuitive healing work.
Discover the world's most powerful principles guaranteed to give you everything you want out
of life!
You will be shown easy to follow steps to a healed, whole and blissful life! You will get a whole
NEW YOU! Step by step. Prosperity too! A new life! New Abilities! Yes, free your mind and the
rest will follow!
This is a group course offered by Miracle Makers! This opportunity isn't for everyone.
Just for those right for our community! You will have a tribe of Miracle Makers around you!
Read About the Miracle Maker's Experience!
"As each class goes by, it gets more exciting.  I feel like I'm going to jump out of my skin with information because it's like A-ha moments every five seconds!"
~ Alanna
"It has helped me slow myself down, it's helped me intuitively, emphatically so I don't get overloaded with everybody else's emotions.  It's helped me filter out, which is really, really good; it's helped me address many of my personal relationships, friendships, my interpersonal relationship with my parents, even at work where it's slowed me down so I don't
feel overwhelmed by everybody."
~ Cindy
"The shift is amazing.  My eyes are wide open, my heart…wide open, the love, the acceptance, the tapping into who I am, my

 birth of my purpose was developed in the Mastermind."
~ Marie

"I have been introduced to some of the most beautiful people in the world through knowing Dr. Sarah.  She just attracts people in her life that are miraculous and amazing!"
~ Mollyanne
"It's amazing, truly amazing. And I highly recommend, come next Monday, try it out, you won't believe.  Miracles will start to happen, things will open up, and it's going to be wonderful! Wonderful.  Try it!"
~ Monique
Events follow this general format:
6:30 pm – Meet and Greet time with Dr. Sarah to help you with challenges that arise during
the series.
7:00 pm – Intention and Meal
7:30 pm – Mastermind