Events
Learn How to Read Your Palms | Palmistry for Love & Relationships
Everything occurring in your body, mind, and spirit is leaving a mark for you in your hands!
The scholars, healers, and visionaries in ancient to Modern India, China and Egypt have know how to utilize this information!
Palmistry is an integral part of understanding your whole body! It is established that our palm contains sensitive points to control our whole body. The science of acupressure is also based on the same fact only in which the concept goes to cure various body parts with the application of pressure on these points.
The left part of our brain regulates our right hand whereas left hand is controlled by the right part of brain. Medical science proclaims that left part controls our speech, writing skills and scientific calculation whereas right part controls our musical and artistic abilities and for this reason only man-(symbol of science) is advised to wear stones in right hand for controlling left part of brain and similarly woman – (the symbol of art) is recommended to wear stones in left hand for controlling right side of brain.
The lines are there in the hand of an infant even before he takes his first breath. According to medical science the major lines appear in the hand of child in his 3rd month in pregnancy. The minute lines (micro prints or fingerprints) get developed with the completion of 6 months.
According to medical science the detailed knowledge of the lines of the hand are embedded in the 21st chromosome and hence palm lines develop completely on the basis of our hereditary system.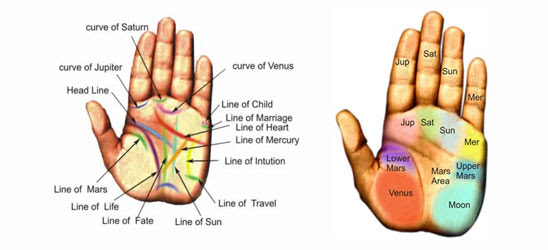 Price: $20.00/per person with RSVP to 424 757 4197
$25.00 at the door
Registration begins at 2:00PM
Workshop from 2:30PM to 5:30 PM
"You aren't here to struggle and suffer.  You're here to express and share your creative gifts, to give and receive love and to be happy."
Participation is By $20 Donation with RSVP
or $25 at the door with no RSVP
Questions to Dr. Sarah Larsen at DrSarah@drsarahlarsen.com
or 424.757.4197
Dr. Sarah Larsen is a Medical Intuitive, 3rd Generation Palm Reader, and Psychic Life Coach received a degree as Medical Doctor from Medical University of the Americas. She is founder of Organic Health Mastery, leads transformational workshops/retreats. She is on radio, one on CRN Radio Network Divine Love hosted by Dr. Parthenia Grant. Her approach to healing has been described as merging ancient wisdom and modern medicine for optimal health.
More about Dr. Sarah at her website: drsarahlarsen.com
Free Parking in gated area / gate code #5678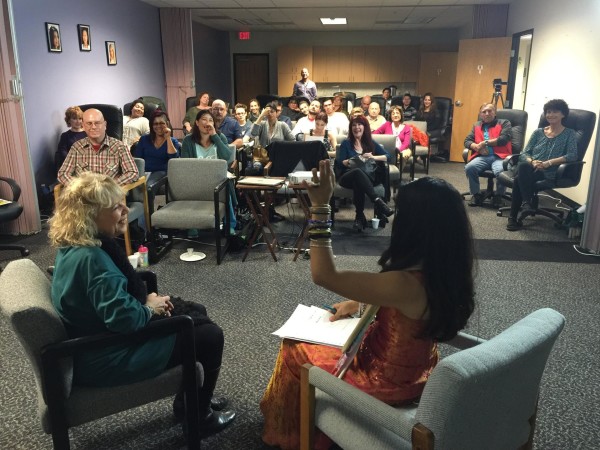 Dr. Sarah will be channeling for your best life possible in 2016!
Meet your hosts:
Dr. Sarah Larsen
Behavioral and Medical Specialist | Educator| Business Consultant and International Philanthropist
Sarah Larsen M.D. is considered one of the world's leading authorities on human behavior, eastern and western medicine, and personal development.
Host of UBN Radio's "Miracle Maker."
Co-host of CRN Network's "Divine Love Talk" with Dr. Parthenia Grant
Dr. Sarah Larsen received a degree as a Medical Doctor from the Medical University of the Americas. She can be seen on TV and radio stations throughout the world on the UBN and CRN networks with their 25 million subscribers. She has taught tens of thousands of people to heal themselves, elevate the way they think, speak, and ultimately how they live. She has produced record-breaking results in her clients that have applied her teachings.
Her training and areas of expertise include: Allopathetic Medicine (Western), Ayurvedic Medicine (Eastern), Epigenetics, Edgar Cayce Medicine, Gersion Therapy, Homeopathy, Energy Healing & Anthroposophic Medicine. She has attended Medical Schools, trained in, and taught in the best hospitals in the world: Kastuba Medical College, Manipal India; University of West Indies, Trinidad and Tobago;
She is a certified master trainer and facilitator of:
NeuroLinguistics Programming, Hypnotism, Emotional Freedom Technique, and Psychic Development
http://drsarahlarsen.com/about/
—————————————————————————————-
Frequently asked Questions about the venue:
The Holman Group
451 Corbin Ave, Suite 100
Northridge, Ca 91324
Gate Code #5678
Please call
1. Are children welcome
Yes, this is for the whole family!
2. Is this religious?
No, it is a gathering to create the best outcome for you, your community and for the best 2016!
It is at Dr. Larsen's Northridge Office! Her Northridge office is located at The Holman Group.
The Holman Group is a corporation that offers services designed to end mental suffering in the world! It has helped over 1 million people!
It was started by Dr. Ron Holman who has just returned from India! He was with an immortal yogi in the jungles of southern India!
3. What can I expect?
You make your way to a corporate building with a large parking lot! You notice a lot of cars around one entrance. You enter the building that is clearly open and follow the welcoming vibe.
You begin to be greeted by people, some have been there many times and some are coming for the first time.
Art on the wall, crystals everywhere!
Tea, coffee and light snacks!
You will hear amazing magic stories of people who have been traveling and haven't seen each other in a while!
You feel included in the story as they share miraculous stories!
You share your stories and you meet a lot of people who genuinely want to know what makes you happy!
If all goes well you are on a path for "friends for life"!
Peace and blessings,
Dr. Sarah
—————————————————————————————-
Spiritual Travel Adventure to Egypt | The Old Souls and Miracle Makers Tour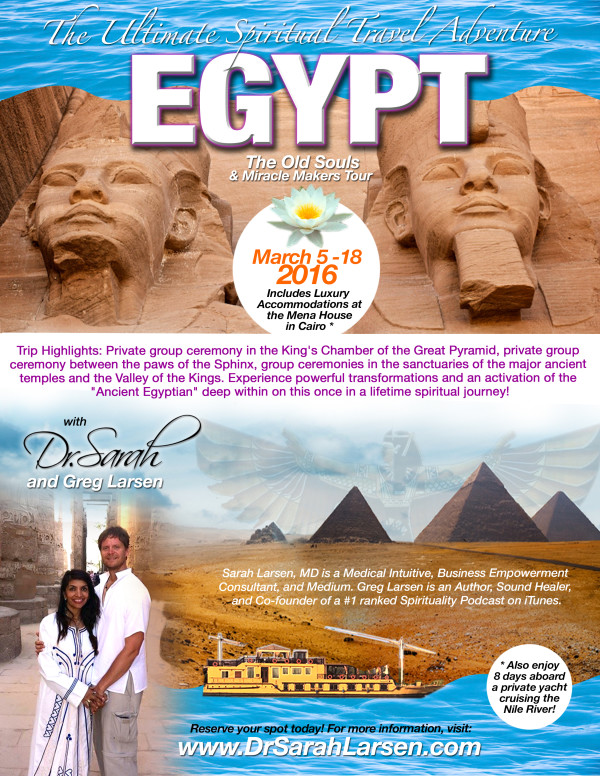 Are you ready to spend private time in the King's Chamber of the Great Pyramid, stand between the paws of the Sphinx , and sail the timeless Nile?
Click here to read the full itinerary and for complete trip details.
—————————————————————————————-