Events
This October the One Love Experience welcomes its patrons to Sky Valley, Coachella area,  for a gathering of music, the mind, the body, and the soul. Featuring world renowned musical talent and spiritual leaders, fire ceremonies, indigenous elders, sweat lodge, tantra class, love jams, breath work, peace sticks, love workshops,  the event provides a safe haven for those seeking to evolve their consciousness through friendship, activism, and dance.  Please join us as we cross the boundaries between the physical and the celestial through the power of Oneness. Our stars aligning. We are all ONE.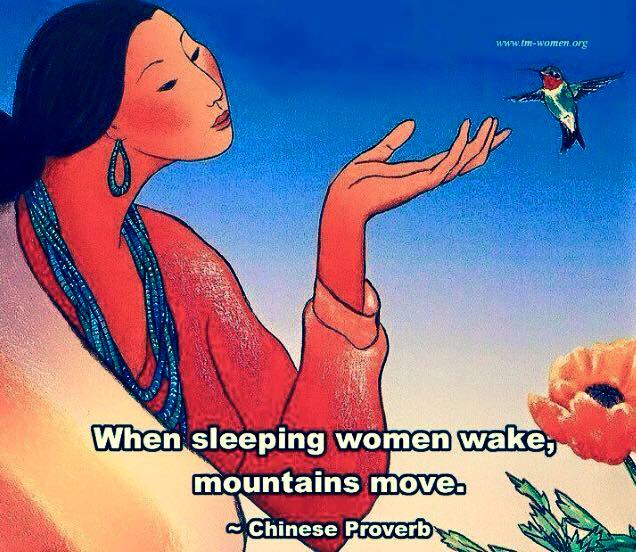 I would love to meet you in person!
Please let me know you are coming and I will look for you!
One LOVE Fest this weekend Oct 9th to 11th
There are so many of us gathering for you! Great leaders that love to serve the world and the community! If at all possible come join us!
Tickets begin at just $11
Full Weekend Pass is $55
This fest is designed to engage you until you are free! Free from what? Free from fear! You can only be either expanding into love or contracting into fear! Could you really be free of fear? Yes! Yes! Yes! ONE LOVE FEST!
Purchase tickets here:
http://www.eventbrite.com/e/one-love-experience-tickets-18199142124?aff=Onelovenow&afu=12024181179
— at Cielo Spiritual Retreat
One Love Experience – Oct 9 – 11, 2015
For those whom are guided to attend, we are gathering at Cielo Spiritual Retreat Center,
19375 Prospect St
Sky Valley, California
Friday, 2pm – Monday 6am
* Pack your tents, blankets, and supplies
Events I am leading:
October 10:
DR. SARAH LARSEN – 10 MIN MEDITATION
Venue: ONE STAGE Time: 8:00 pm – 8:10 pm
Oct 11th:
SARAH LARSEN: HOW YOU FIT INTO THE PROPHECY WOMEN OF THE WEST WILL SAVE THE WORLD
Venue: ONE STAGE Date: October 11 Time: 3:15 pm – 3:30 pm
DR. SARAH LARSEN – 'AWAKENING YOUR MIRACULOUS SELF' CHANNELING & WORKSHOP :
Venue: NEW EARTH PORTAL Time: 3:30 pm – 5:00 pm
Cielo Spiritual Retreat Center,
19375 Prospect St
Sky Valley, California
Friday, 2pm – Monday 6am
* Pack your tents, blankets, and supplies
—————————————————————————————-
Spiritual Travel Adventure to Egypt | The Old Souls and Miracle Makers Tour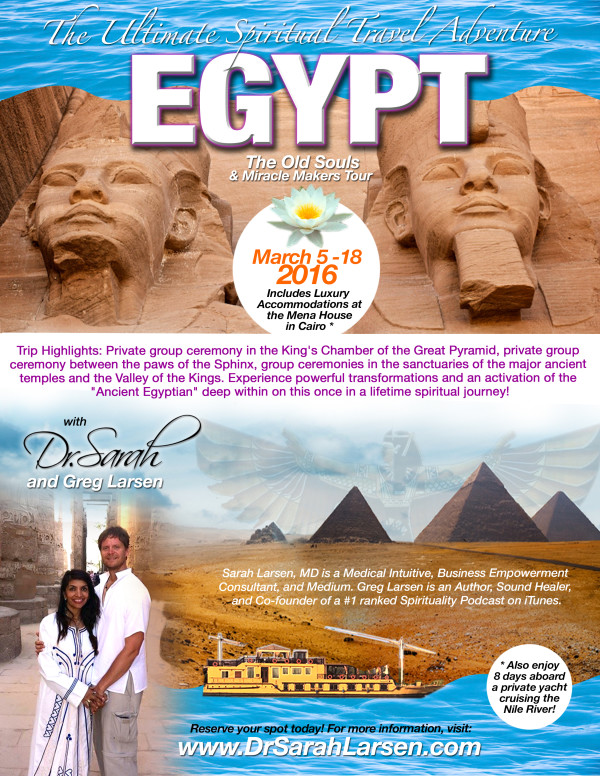 Are you ready to spend private time in the King's Chamber of the Great Pyramid, stand between the paws of the Sphinx , and sail the timeless Nile?
Click here to read the full itinerary and for complete trip details.
—————————————————————————————-
Personal Development and Natural Medicine
Are you ready to live the kind of life that deep down, you always knew you were meant to live?
Join Dr. Sarah Larsen and special guests for private workshops designed to help you grow to your fullest potential.
Click here to join Dr. Sarah's Meetup community
Each week you will be guided to discover more of whom you truly are and live your life purpose.  Each class will inspire you to feel more connected, motivated and happier.
This ongoing workshop series will help you shed dis-empowering thoughts and relationships, and provide a network of loving support; teaching you how to achieve lasting fulfillment doing what you love!
Upcoming topics include:  Reincarnation, Eliminate Limiting Beliefs, Balancing Your Chakras, Eliminating Darkness from Your Mind, Body, and Soul, How to Get Lucky, Lucid Dreaming, Crystal and the Codes They Carry, and Activation with Yoga and Breathing
In this class you will experience videos, exercises, and insights that will encourage you and give you a new set of tools for your life!
Usual schedule
– Registration 2:30 – 3:30
– Workshop from 3:30 – 5:30 (mini palm readings after lecture)

– Potluck at 5:30 pm
 The Holman Group
9451 Corbin Ave, Suite 100
Northridge, CA  91324
(map)
Gate code #5678 (make sure to press # first)
Sarah Larsen M.D. is a Medical Intuitive, 3rd Generation Palm Reader, and Psychic Life Coach. Dr. Sarah received a degree as Medical Doctor from Medical University of the Americas. She leads transformational workshops/retreats. Her approach to healing has been described as merging ancient wisdom and modern medicine for optimal health. 
Introducing the NEW Northridge office for Dr. Sarah Larsen
Regular meetings continue with potluck, music, and free samples of:
Siddha Medicine
Navapashanam
Ormus
Plasmas
And other great prizes and gifts for free!!