Events
Are You Single:
A Relationship Intensive

Ladies, Are you tired of being single?
Wish you didn't have to go to bed alone?
Are you tired of being the 3rd wheel with friends?
Are you hoping to start the New Year off with a kiss or celebrate Valentines Day with someone special?
Maybe you're in a relationship, but you FEEL single!
We know how you feel. We've been there.
This 6-hour workshop is for you to discover all the things you wish was taught to you about yourself and relationships.
Join us and…
•explore how you connect heart to heart with others
•create new freedom in your body through dance
•learn how to personally brand yourself to attract the right relationship
•let the pain of the past go once and for all through emotional work and release
You'll leave joyful, fulfilled, complete and ready for an amazing relationship!
This Women-only intensive isn't just for single ladies! It's for anyone wanting a relationship or personal reboot!
You'll also receive these amazing bonuses: personal branding workbook, one miracle Mondays Mastermind Class ($108 Value), Downloadable "Attracting True Love" Meditation mp3 and a free private dance class ($120 Value)
Questions? Call 888-867-5309
Dr. Sarah Larsen, MD is a Medical Intuitive, Psychic Medium, and Host of Miracle Makers on UBN Radio/TV. Married to the man of her dreams and mother of two, she helps women let go of past hurts and bring new love into their life.
www.drsarahlarsen.com
Madeline Sinclaire is an International entertainer, motivational speaker, life coach, and dance instructor. She left a high six figure Mattel Executive position to become an award winning Burlesque Entertainer, featured in over 100 media outlets to empower women all over the world.
http://www.madelinesinclaireitfactor.com/
Saturday, December 3, 2016

to

8601 Lincoln Blvd Los Angeles, CA 90045, Los Angeles, CA (edit map)

Around the corner on West Manchester Street
Miracle Mondays!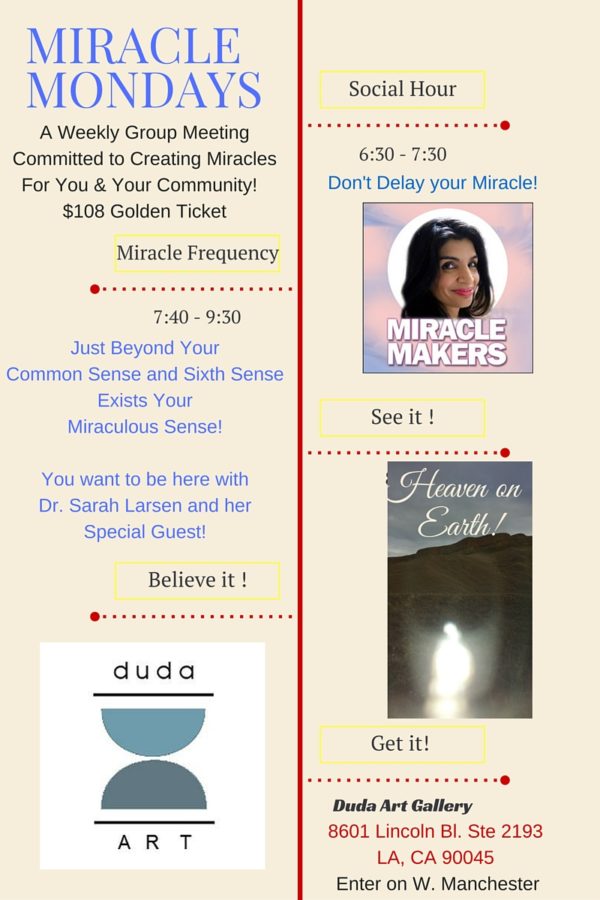 Miracle Mondays: Practical | Spiritual | Transformational Exercises & Ritual
In a safe space – the beautiful Duda Art Gallery filled with creativity and acceptance – you will experience: Inspiration, Love, Generosity, Success, Friendship, Miracles, Fun, Motivation, Wisdom, Leadership, Freedom, Knowledge, and Happiness!
You will make new friends!
We will spark the light that is forever present in you!
6:30 – 7:30 pm 
~ Parking and finding the gallery
~ Light refreshments
~ Meet and Greet
7:30 – 7:45 pm
~ Grounding and settling into our Body, Mind, & Soul
7:45 – 10:30 pm
~ Guest Teachers
~ Making dreams come true
~ Exercises & Rituals
~ Channelled Messages
—————————————————————————————-
Upcoming:
Rediscover Your It Factor with Madeline Sinclaire and Dr. Sarah Larsen
Are you ready to rediscover unlimited confidence, self-love and sexiness, right now?
Please join Dr. Sarah Larsen, host of Miracle Mondays, and special guest Madeline Sinclaire, as they share their wisdom and knowledge to rediscover your it factor!
When:  Monday, August 15th
Where:  Duda Art Gallery
Dr. Sarah will also offer readings to participants for individualized guidance based on date and time of registration!!
Your investment for the gathering is $108.
Click here to save your seat for the event.
Click here for event details on Meetup
Madeline Sinclaire is a classic Burlesque Entertainer, Burlesque Teacher, Coach, Producer and Model with focuses on stage presence, production quality, props and community. She also has a business making Feather Fans, Feather Boas, Vegan Boas and G-strings for the entertainment industry. She is based in Los Angeles, California.
Visit Madeline's website and get her free 10 Burlesque Secrets.
—————————————————————————————-
MIRACLE MAKERS COMMUNITY EVENTS – CREATING HEAVEN ON EARTH
Miracle Mondays is a weekly group experience facilitated by Dr. Sarah.
Your investment for the gathering is $108.
Click here to save your seat for the event.
Thank you for joining us on this miraculous journey!
For those that know the work of Dr. Sarah and Greg Larsen you know you are in for a treat!
Not for everyone, this class is for those that love hearing channeled information and love understanding themselves and how you and your emotions fit into the fabric of life.
To be a Miracle Maker you have to be fully you!
Miracle Mondays is for those that love clear guidance and desire to shift from "common sense" thinking to "miraculous sense" thinking!
Dr. Sarah
"The past doesn't equal the future.  All great leaders, all people who have achieved in any area of life, know the power of continuously pursuing their vision, even if all the details of how to achieve it aren't yet available."

Tony Robbins
——————-
We will understand how the ancient ones created peace on the banks of the Nile with their practices at temple!
You will understand how to handle your lowest points in life through understanding the stories written on the walls!
Channeling for you by Dr. Sarah Larsen
Are you ready to receive a  channeled messages from Dr. Sarah that will raise your vibration higher and quicker than most anything else you can do?
Dr. Larsen see each person as an extension of herself and wants you to have the greatest life you can achieve.Group activities and group experiences amply the energy of what already is in the environment.
2016 is the year of Trust! I want it to be the best year ever for you
What does "Channeling for You" mean?
Dr. Sarah Larsen channels for you deep profound information!
An internationally regarded psychic medium and clairvoyant, Dr. Sarah is a published author, speaker, and lifestyle entrepreneur. Trained as a medical doctor, she now works as a Life Strategy Coach for achieving your best life possible
She has conducted thousands of readings for people around the world