Events
Miracle Makers Mastermind Mondays!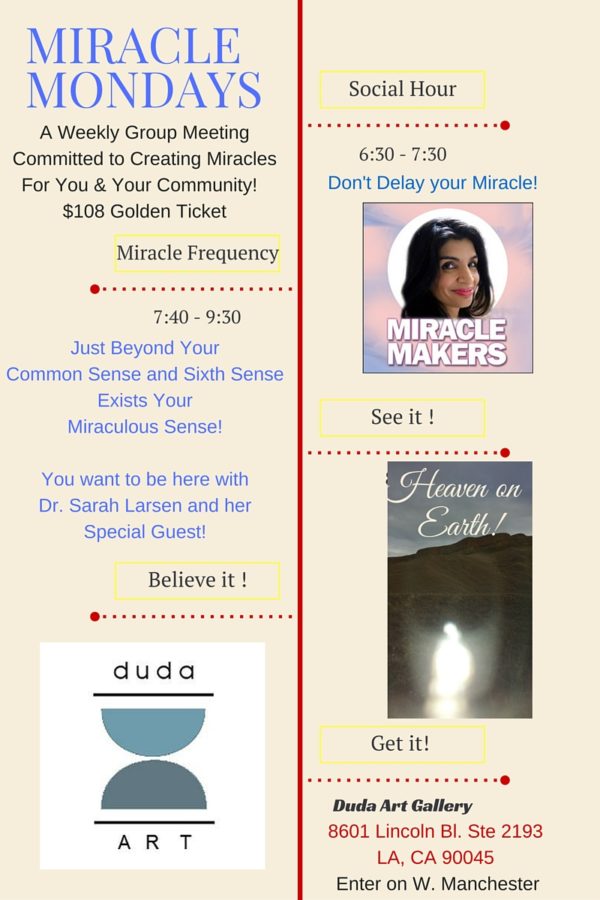 Miracle Mondays: Practical | Spiritual | Transformational Exercises & Ritual
In a safe space – the beautiful Duda Art Gallery filled with creativity and acceptance – you will experience: Inspiration, Love, Generosity, Success, Friendship, Miracles, Fun, Motivation, Wisdom, Leadership, Freedom, Knowledge, and Happiness!
You will make new friends!
We will spark the light that is forever present in you!
6:30 – 7:30 pm 
~ Parking and finding the gallery
~ Light refreshments
~ Meet and Greet
7:30 – 9:30 pm
~ Grounding and settling into our Body, Mind, & Soul
~ Making dreams come true
~ Exercises & Rituals
~ Channelled Messages
MIRACLE MAKERS COMMUNITY EVENTS – CREATING HEAVEN ON EARTH
Miracle Mondays is a weekly group experience facilitated by Dr. Sarah.
Your investment for the gathering is $108.
Click here to save your seat for the event.
Thank you for joining us on this miraculous journey!
For those that know the work of Dr. Sarah and Greg Larsen you know you are in for a treat!
Not for everyone, this class is for those that love hearing channeled information and love understanding themselves and how you and your emotions fit into the fabric of life.
To be a Miracle Maker you have to be fully you!
Miracle Mondays is for those that love clear guidance and desire to shift from "common sense" thinking to "miraculous sense" thinking!
Dr. Sarah
"The past doesn't equal the future.  All great leaders, all people who have achieved in any area of life, know the power of continuously pursuing their vision, even if all the details of how to achieve it aren't yet available."

Tony Robbins
——————-
We will understand how the ancient ones created peace on the banks of the Nile with their practices at temple!
You will understand how to handle your lowest points in life through understanding the stories written on the walls!
Channeling for you by Dr. Sarah Larsen
Are you ready to receive a  channeled messages from Dr. Sarah that will raise your vibration higher and quicker than most anything else you can do?
Dr. Larsen sees each person as an extension of herself and wants you to have the greatest life you can achieve.Group activities and group experiences amply the energy of what already is in the environment.
2016 is the year of Trust! I want it to be the best year ever for you
What does "Channeling for You" mean?
Dr. Sarah Larsen channels for you deep profound information!
An internationally regarded psychic medium and clairvoyant, Dr. Sarah is a published author, speaker, and lifestyle entrepreneur. Trained as a medical doctor, she now works as a Life Strategy Coach for achieving your best life possible
She has conducted thousands of readings for people around the world