Events
Miracle Mondays!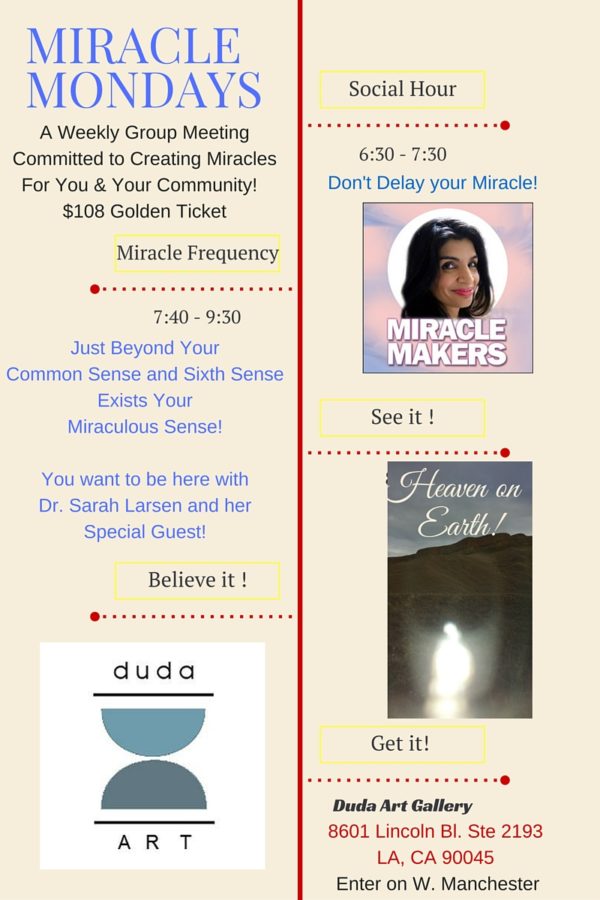 Miracle Mondays: Practical | Spiritual | Transformational  Exercises & Ritual
In a safe space – the beautiful Duda Art gallery filled with Creativity and Acceptance – you will experience: Inspiration, Love, Generosity, Success, Friendship, Miracles, Fun, Motivation, Wisdom, Leadership, Freedom, Knowledge, and Happiness!
You will make new friends!
We will light the light that is forever present in you!
6:30 – 7:30 pm 
~ Parking and finding the gallery
~ Light refreshments
~ Meet and Greet
7:30 – 7:45 pm
~ Grounding and settling into our Body, Mind, & Soul
7:45 – 9:30 pm
~ Guest Teachers
~ Making dreams come true
~ Exercises & Rituals
"The past doesn't equal the future.  All great leaders, all people who have achieved in any area of life, know the power of continuously pursuing their vision, even if all the details of how to achieve it aren't yet available."

Tony Robbins
MIRACLE MAKERS COMMUNITY EVENTS – CREATING HEAVEN ON EARTH
Miracle Mondays is a weekly group experience facilitated by Dr. Sarah.
The cost of the gathering is $108.
Click here to save your seat for the event.
Thank you for joining us on this miraculous journey!
For those that know the work of Dr. Sarah and Greg Larsen You know you are in for a treat!
Not for everyone, this class is for those that love hearing channeled information and Love understanding themselves and how you and your emotions fit into the fabric of time.
To be a Miracle Maker you have to be you!
This is for those that love clear guidance to think and act extraordinarily!
Dr. Sarah
—————————————————————————————-
Past events:
Experiencing the Temple at Kom Ombo
The temple at Kom Ombo is about 30 miles (48 km) north of Aswan, Egypt and was built during 18th dynasty and restored and extremely enhanced during the Graeco-Roman period (332 BC AD 395).
The temple is unique because it is in fact a double temple, dedicated to Sobek the crocodile god, and Horus the falcon-headed god. The layout combines two temples in one with each side having its own gateways and chapels.
Sobek is associated with the wicked god Seth, the enemy of Horus. In the Horus myth the allies of Seth made their escape by changing themselves into crocodiles.
Sobek's chief sanctuary was at Kom Ombo, where there were once huge numbers of crocodiles. Until recent times the Egyptian Nile was infested with these ferocious animals, who would lay on the riverbank and devour animals and humans alike. So it is not surprising that the local inhabitants went in fear.
They believed that as a totem animal, and object of worship, it would not attack them. Captive crocodiles were kept within the temple and many mummified crocodiles have been found in cemeteries, some of which can be seen in the temple sanctuary today.
We will understand how the ancient ones created peace on the banks of the Nile with their practices at temple!
You will understand how to handle your lowest points in life through understanding the stories written on the walls!
Channeling for you by Dr. Sarah Larsen
Are you ready to receive a  channeled messages from Dr. Sarah that will raise your vibration higher and quicker than most anything else you can do?
Dr. Larsen see each person as an extension of herself and wants you to have the greatest life you can achieve.Group activities and group experiences amply the energy of what already is in the environment.
2016 is the year of Trust! I want it to be the best year ever for you
What does "Channeling for You" mean?
Dr. Sarah Larsen channels for you deep profound information!
An internationally regarded psychic medium and clairvoyant, Dr. Sarah is a published author, speaker, and lifestyle entrepreneur. Trained as a medical doctor, she now works as a Life Strategy Coach for achieving your best life possible!
She has conducted thousands of readings for people around the world.
WHEN

The Holman Group


9451 Corbin Ave., Suite 100
Northridge, CA 91324-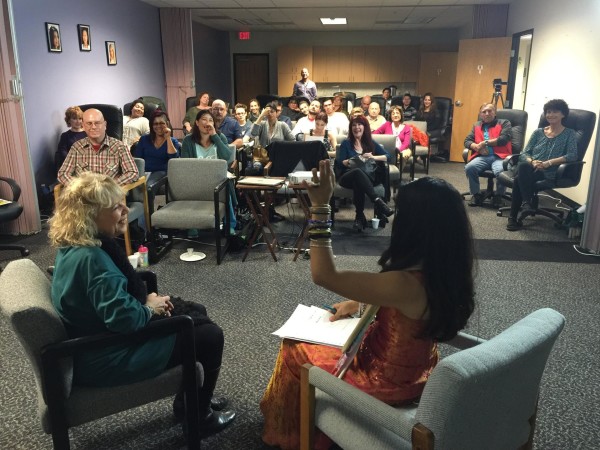 Meet your hosts:
Dr. Sarah Larsen
Behavioral and Medical Specialist | Educator| Business Consultant and International Philanthropist
Sarah Larsen M.D. is considered one of the world's leading authorities on human behavior, eastern and western medicine, and personal development.
Host of UBN Radio's "Miracle Maker."
Co-host of CRN Network's "Divine Love Talk" with Dr. Parthenia Grant
Dr. Sarah Larsen received a degree as a Medical Doctor from the Medical University of the Americas. She can be seen on TV and radio stations throughout the world on the UBN and CRN networks with their 25 million subscribers. She has taught tens of thousands of people to heal themselves, elevate the way they think, speak, and ultimately how they live. She has produced record-breaking results in her clients that have applied her teachings.
Her training and areas of expertise include: Allopathetic Medicine (Western), Ayurvedic Medicine (Eastern), Epigenetics, Edgar Cayce Medicine, Gersion Therapy, Homeopathy, Energy Healing & Anthroposophic Medicine. She has attended Medical Schools, trained in, and taught in the best hospitals in the world: Kastuba Medical College, Manipal India; University of West Indies, Trinidad and Tobago;
She is a certified master trainer and facilitator of:
NeuroLinguistics Programming, Hypnotism, Emotional Freedom Technique, and Psychic Development
http://drsarahlarsen.com/about/
—————————————————————————————-
Frequently asked Questions about the venue:
The Holman Group
451 Corbin Ave, Suite 100
Northridge, Ca 91324
Gate Code #5678
Please call
1. Are children welcome
Yes, this is for the whole family!
2. Is this religious?
No, it is a gathering to create the best outcome for you, your community and for the best 2016!
It is at Dr. Larsen's Northridge Office! Her Northridge office is located at The Holman Group.
The Holman Group is a corporation that offers services designed to end mental suffering in the world! It has helped over 1 million people!
It was started by Dr. Ron Holman who has just returned from India! He was with an immortal yogi in the jungles of southern India!
3. What can I expect?
You make your way to a corporate building with a large parking lot! You notice a lot of cars around one entrance. You enter the building that is clearly open and follow the welcoming vibe.
You begin to be greeted by people, some have been there many times and some are coming for the first time.
Art on the wall, crystals everywhere!
Tea, coffee and light snacks!
You will hear amazing magic stories of people who have been traveling and haven't seen each other in a while!
You feel included in the story as they share miraculous stories!
You share your stories and you meet a lot of people who genuinely want to know what makes you happy!
If all goes well you are on a path for "friends for life"!
Peace and blessings,
Dr. Sarah
—————————————————————————————-
Spiritual Travel Adventure to Egypt | The Old Souls and Miracle Makers Tour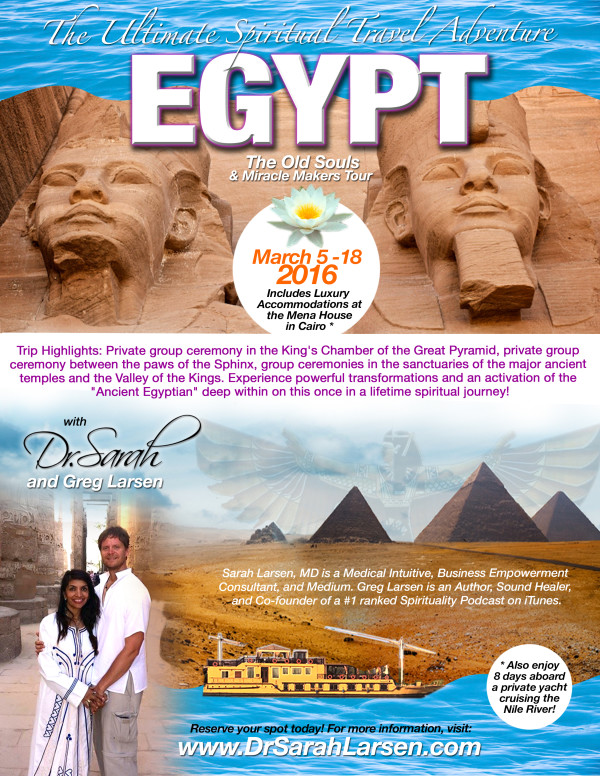 Are you ready to spend private time in the King's Chamber of the Great Pyramid, stand between the paws of the Sphinx , and sail the timeless Nile?
Click here to read the full itinerary and for complete trip details.
—————————————————————————————-