Events
LOS ANGELES, CA
Sacred Geometry with Jonathan Quintin & Dr. Sarah Channeling for You
Are you ready to receive a Sacred Geometry Activation from Jonathan Quintin and channeled messages from Dr. Sarah that will raise your vibration higher and quicker than most anything else you can do?
2016 is the year of Trust! I want it to be the best year ever for you! So Jonathan Quintin, whom I met at Nassim Haramein's Ambassador training years ago, and I created a very special class for you!
"We contain within us all the information of the universe. We are a fractal representation of the universal model and geometry is the underlying principle that unites us all. This knowledge, however, is buried deep within the unconscious. Sacred geometry provides the tools for us to gain better access to the deeper regions of our consciousness." ~ Jonathan Quintin
Learn more and connect with Jonathan on Facebook
Sacred geometry has been used for eons as a tool for attuning human consciousness to the harmony of universal order.
The universal language of sacred geometry provides a means for us to connect with this underlying order because it flows in us as well and connects us to the greater whole.
What will happen to me when I attend this Sacred Geometry Activation?
The amount of energy received and integrated will be exactly that which will best serve your highest soul intent!.
What is Sacred Geometry?
Sacred Geometry is the spiritual architecture of the Universe. It is the sequence of shapes and patterns that all of creation comes from. There are examples of Sacred Geometry going back millennia. Plato references it at around 400 B.C., and many others even much earlier. It is the very essence of all creation.
During Sacred Geometry Activation, you will receive visual, tonal sound, color and geometric information into your field all the way deep into your DNA that activates the I AM Presence within, receiving it and transferring it to you on the physical, emotional, mental and spiritual levels while activating the Merkaba that is both within and outside the body.
Sacred Geometry Activation works in partnership with your conscious intent, higher self, angelic guides and the Universal Mind.
What does "Channeling for You" mean?
Dr. Sarah Larsen channels for you deep profound information!
An internationally regarded psychic medium and clairvoyant, Dr. Sarah is a published author, speaker, and lifestyle entrepreneur. Trained as a medical doctor, she now works as a Life Strategy Coach for achieving your best life possible!
She has conducted thousands of readings for people around the world.
WHEN

WHERE

Moore Dancing – 11943 Montana Avenue, Los Angeles, CA 90049 – View Map
"You aren't here to struggle and suffer.  You're here to express and share your creative gifts, to give and receive love and to be happy."
Tickets available at Eventbrite!  Purchase an advance ticket for $33 and save $11.  Purchase a ticket and channeled message from Dr. Sarah for $55.  Click here to purchase tickets!
Questions to Dr. Sarah Larsen at DrSarah@drsarahlarsen.com or 424.757.4197
Dr. Sarah Larsen is a Miracle Maker and Psychic Life Coach received a degree as Medical Doctor from Medical University of the Americas. She is founder of Organic Health Mastery, leads transformational workshops/retreats. She is on radio, one on CRN Radio Network Divine Love hosted by Dr. Parthenia Grant. Her approach to healing has been described as merging ancient wisdom and modern medicine for optimal health.
More about Dr. Sarah at her website: drsarahlarsen.com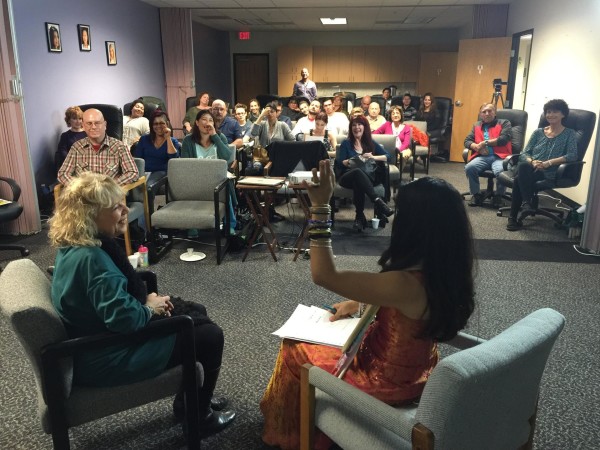 Meet your hosts:
Dr. Sarah Larsen
Behavioral and Medical Specialist | Educator| Business Consultant and International Philanthropist
Sarah Larsen M.D. is considered one of the world's leading authorities on human behavior, eastern and western medicine, and personal development.
Host of UBN Radio's "Miracle Maker."
Co-host of CRN Network's "Divine Love Talk" with Dr. Parthenia Grant
Dr. Sarah Larsen received a degree as a Medical Doctor from the Medical University of the Americas. She can be seen on TV and radio stations throughout the world on the UBN and CRN networks with their 25 million subscribers. She has taught tens of thousands of people to heal themselves, elevate the way they think, speak, and ultimately how they live. She has produced record-breaking results in her clients that have applied her teachings.
Her training and areas of expertise include: Allopathetic Medicine (Western), Ayurvedic Medicine (Eastern), Epigenetics, Edgar Cayce Medicine, Gersion Therapy, Homeopathy, Energy Healing & Anthroposophic Medicine. She has attended Medical Schools, trained in, and taught in the best hospitals in the world: Kastuba Medical College, Manipal India; University of West Indies, Trinidad and Tobago;
She is a certified master trainer and facilitator of:
NeuroLinguistics Programming, Hypnotism, Emotional Freedom Technique, and Psychic Development
http://drsarahlarsen.com/about/
—————————————————————————————-
Frequently asked Questions about the venue:
The Holman Group
451 Corbin Ave, Suite 100
Northridge, Ca 91324
Gate Code #5678
Please call
1. Are children welcome
Yes, this is for the whole family!
2. Is this religious?
No, it is a gathering to create the best outcome for you, your community and for the best 2016!
It is at Dr. Larsen's Northridge Office! Her Northridge office is located at The Holman Group.
The Holman Group is a corporation that offers services designed to end mental suffering in the world! It has helped over 1 million people!
It was started by Dr. Ron Holman who has just returned from India! He was with an immortal yogi in the jungles of southern India!
3. What can I expect?
You make your way to a corporate building with a large parking lot! You notice a lot of cars around one entrance. You enter the building that is clearly open and follow the welcoming vibe.
You begin to be greeted by people, some have been there many times and some are coming for the first time.
Art on the wall, crystals everywhere!
Tea, coffee and light snacks!
You will hear amazing magic stories of people who have been traveling and haven't seen each other in a while!
You feel included in the story as they share miraculous stories!
You share your stories and you meet a lot of people who genuinely want to know what makes you happy!
If all goes well you are on a path for "friends for life"!
Peace and blessings,
Dr. Sarah
—————————————————————————————-
Past events:
Spiritual Travel Adventure to Egypt | The Old Souls and Miracle Makers Tour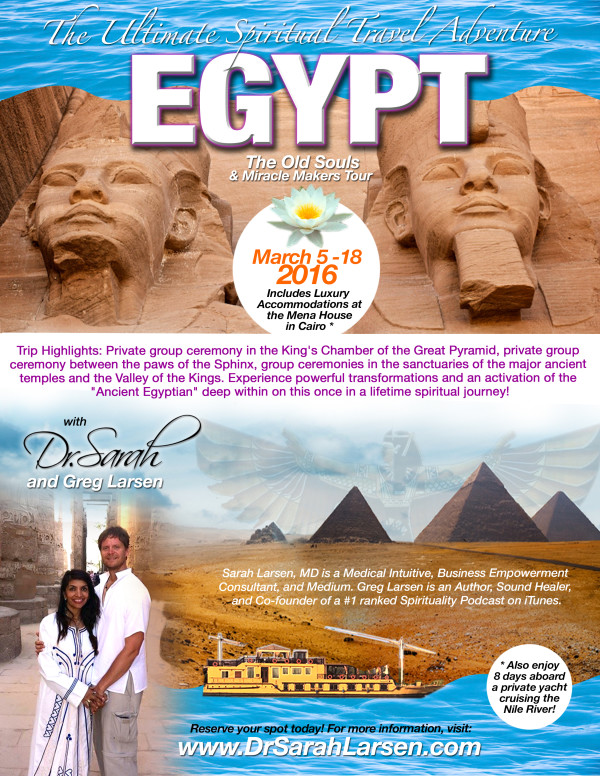 Are you ready to spend private time in the King's Chamber of the Great Pyramid, stand between the paws of the Sphinx , and sail the timeless Nile?
Click here to read the full itinerary and for complete trip details.
—————————————————————————————-