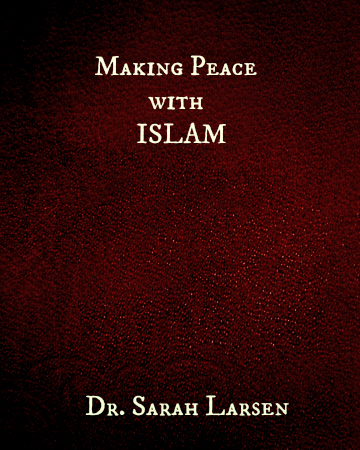 Dr. Sarah Larsen is an incredible spirit. Her life has been an astounding testament to the ability within each of us, to transcend, transform and be in a light in the world. Born as a Muslim, Dr. Sarah was forced into marriage at a young age. And when she left her life, she sought out other religions, spiritual and organized. Her lifelong quest for bettering herself had led her all around the globe, attaining an M.D. degree, and touching many people's hearts as she worked to help others to be healthy as they could be, physically and spiritually.
"Making Peace with Islam" has come to us, as Dr. Sarah's  re-imagining of Islam, for the best, most sacred, enlightened parts to shine forth. After all her trials and tribulations, and experiences with other religions, Dr. Sarah has once again re-discovered Islam, in its holiest intentions, devoid of corruptions, and with this book, she hopes to spark a new dialogue in the world.
I know Dr. Sarah to be is one of the most caring, committed, visionary, devoted people I have had the honor with which to work.  As a personal life coach to me, she has helped to catapult me into being my best self out there and into the world. I think that is, in fact, her gift. The ability to not only see the best in others and all things but to bring it forth into the world.
I have no doubt,  even though I am not a follower of Islam that I will find tremendous value in this book. I encourage you to get to know Dr. Sarah Larsen, as an author, as a doctor of wellness, and as a spiritual coach. She will happily spark you onto your life's purpose, and help you live your life, from the depths of your own beautiful heart.
Andrea Dolbec
Please note: Rev. Dr. Larsen is an Ordained Interfaith Minister. She is often quoted as saying, "Love is my religion and my life is my message!" She practices all faiths and considers herself a student of Rabbi Finley.