Miracle Mondays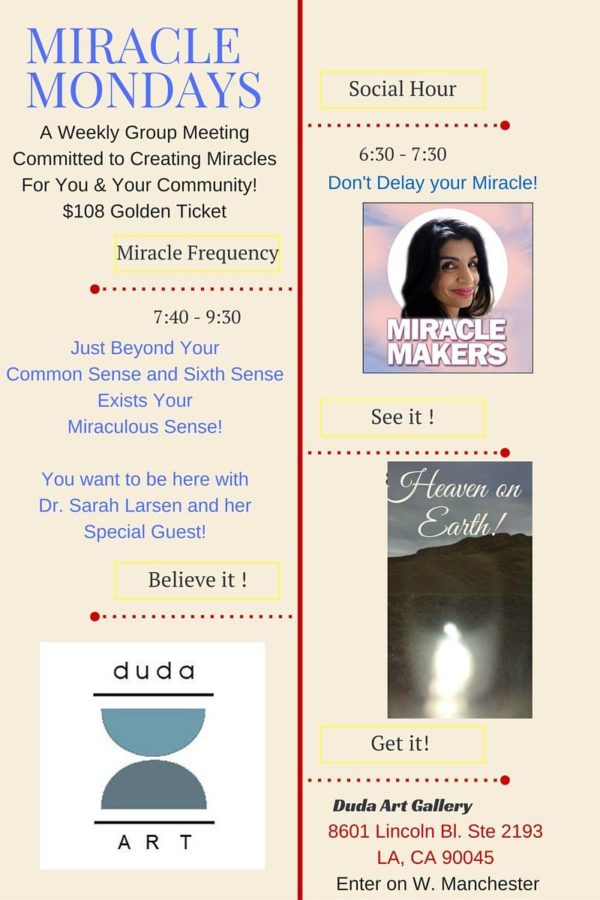 Thank you for joining us on this miraculous journey!
Dr. Sarah
Limited seating at $108.00
In this meeting:
You will get
1. A group experience the highlights MIracle Making~
You will get shortcuts on how to have the best relationships, have more resources and be all you are here to be~
  (You may get a public reading – channeled information from Dr. Sarah Larsen)
2. Incredible teachers and like minded community!
3. Miracle Mondays community wrapping you in connection, love and how much you matter to us!
Organic Catered vegetarian food by Marie Espino, Linda Lloyd, Dr. Sarah Larsen and Duda Art Gallery
6:30 pm to 7: 30
We especially want you to know the wisdom only a beloved Grandmother, Mother, and Sister would share with you for you!
As the iconic designer Paula Scher said,
We can pick our teachers and we can pick our friends and we can pick the books we read and the music we listen to and the movies we see, et cetera. You are the mashup of what you let into your life.
All of these things you let into your life are surrounding your essence.  In the midst of a social awakening! Your essence expressed is more important than ever!
About Duda Art Gallery founded by Mary Duda
Fine Art Gallery, Duda Art Gallery holds community & corporate events, Network Mixers
Readings by Famous Psychic Medium Dr. Sarah Larsen
Call 424 -757 -4197
First Reserved, First read:
When you invest in yourself, you invest in changing the whole world! 
Past Teachers to Dr Larsen's events include:
Steve Robertson is a published author, a public speaker, Huffington Post blogger, a philosopher, futurist, philanthropist, sales and marketing expert and noted producer of transformational concerts, short-film social media and global peace initiatives.
Learn more about Steve on the Project Peace on Earth website or Facebook Fanpage.
Connect with Steve on Facebook.
——————————————————
Rickie Byars Beckwith, First lady of Agape Spiritual Center, Visionary, Founder of Kuumba In Motion co taught Miracle Mondays with Dr. Sarah Larsen
Secrets on expressing your Essence | How to be your Essence | Let go of fear 
You are part of a species that depends on you.  Yes, you for love, learning, self-worth, emulation, connection, safety, transferring ideas and stories, and being more than it could be without you.
Our species and our world is in the midst of a social awakening!
Who you are being in the moment, your essence, and how you show up in the world determines what miracles become available.
These miracles can only come through you.
Miracles lead to your changes. Your changes lead to a world that changes. It creates a version of you that loves being part of every moment!

This class was a fundraiser for Rickie Byars Beckwith's Vision:
Kuumba in Motion and HUBCITY LIVE!.
All funds after expenses go to: Kuumba
KUUMBA in Motion, is a mobile learning academy that rose from a shared dream and vision to nurture the creativity in children and to fill our communities with the joy of creating.
Founded 2009 by Dr.Rickie Byars Beckwith and a team of intergenerational artists and educators, serving youth aged 4 to 18.
From the opening day which started in Rickie's backyard to  their team working with LAUSD Central High School, and now the present  KUUMBA summer camp their work has been overwhelmingly successful.   For more info: http://www.kuumbainmotion.org/