Are you feeling stuck, overwhelmed, frustrated, and looking for clear guidance to get back to yourself?
Do you wonder if you are fulfilling what you came here to do with your life?
Finding balance has never been more difficult as life speeds up.
Commercials, expert marketing, and well-meaning individuals are full of good sounding advice.
However, this good sounding advice often is wrong and you continue to have challenges!
You are still challenged because you haven't gotten accurate, from your soul, heart and body.
Dr. Larsen "hears" and "sees" what is challenging in your energy field.
Although, Dr. Larsen is an internationally renowned speaker in the fields of human consciousness, Conscious Relationships, spirituality and mysticism, health, energy medicine, and the science of medical intuition, and miracles; she makes time for private sessions as often as possible! She will often read you on her show for free!
Miracle Makers on UBN radio.
Link takes you to:
http://ubnradio.com/shows/miracle-makers-with-dr-sarah-larsen/
Dr. Larsen announces free readings on Miracle Makers on UBN in her newsletter.
Dr. Larsen is a graduate of Medical University of the Americas and yet she does not practice Medicine.  She practices Miracle Making and transformation from the inside out!
She does not work as a  licensed Physician.
She communicates with your soul, laws of the universe, and allows you to self-heal. She gives you an ability to overcome self-imposed limitation. She allows you to break out of patterns that are holding you back in your physical health or in your relationships!
Neurolinguistic Programing, Emotional Freedom Technique, and she is an
Ordained Interfaith Minister.  She was trained by her grandmother early on followed by years of training by experts
You get laser focus on what is within you, your purpose and belief system!
You get to listen to the truth from your source of wellness, abundance, and joy in your heart!
You get clarity to make the most of every day, and your big goals for life!
"Working with Sarah is an unusual experience, because I have never met anyone so compassionate, nurturing, and supportive. Sarah is like your best friend, your teacher, and your cheerleader all rolled up into one warm bundle of love, which she showers on you constantly. Sarah helped me to see things in ways that I had never imagined, which supported me in the shifts that I was making and both my business and my personal life. I'm so grateful!"
Halle Eavelyn, Transformational Coach and Tour Leader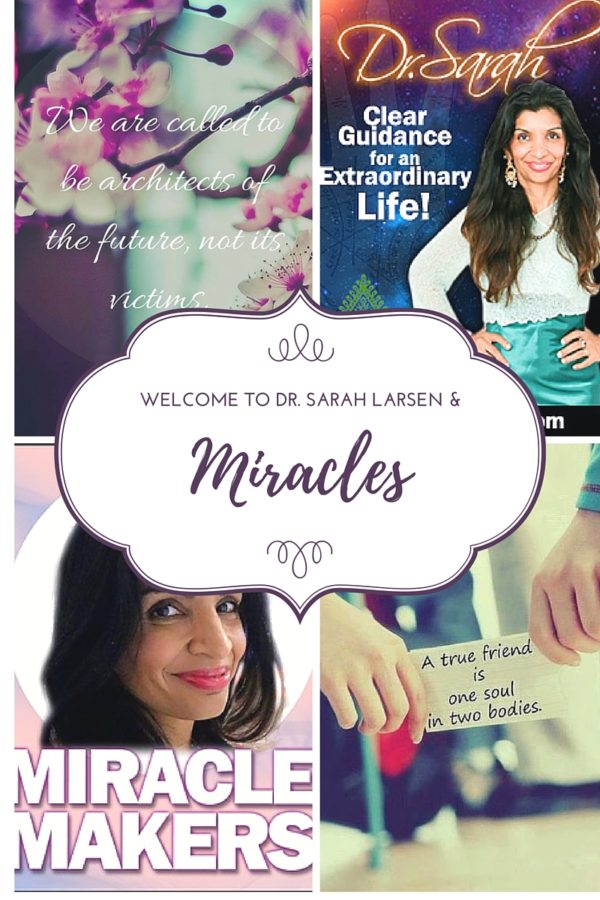 Click here to sign up for a session with Dr. Sarah
A Miracle 101 session is a laser focused 15 minutes with Dr. Sarah!
"In order to be self-aware, you have to have feedback. Consciousness is a feedback between the external world and the internal world. That's fundamental to ALL things. So then ALL things are conscious. All things are feeding information to the vacuum and the vacuum is feeding it back. The amount that you are able to feed into the system, is related directly to your amount of resistance, in how much information can come in."
– Nassim Haramein