How can I get the most out of my spiritual pilgrimage to Egypt?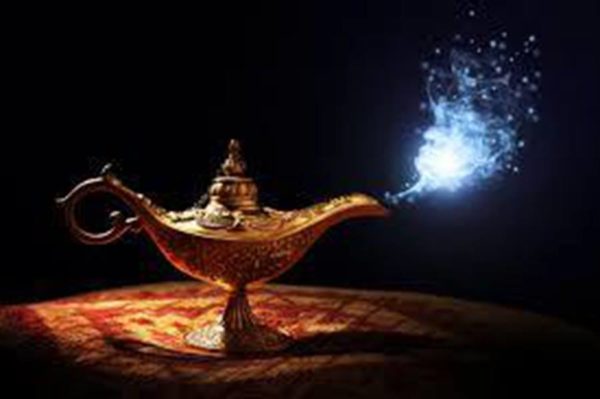 You will be connecting with the part of you that has always existed!
You will be doing this with Dr. Sarah Larsen and an extraordinary
mindful loving crew in Egypt!
We have an application process for everyone on the trip!
In the application process, you will begin your journey!
We also have a group Intention:
To bring our LOVE to EGYPT and return from EGYPT filled with her LOVE!
Egypt has a long history from the beginning of time for being loving, advancing of humanity, and kind!
There is a short period of time in history where there was war everywhere! And Egyptians were, like all people at war.
Egypt, Israel finish peace treaty, March 26, 1979
On this day in 1979, Egypt and Israel, after having fought four wars since 1948, concluded a formal peace treaty. It was signed by Egyptian President Anwar Sadat and Israeli Prime Minister Menachem Begin and witnessed by President Jimmy Carter at a ceremony on the South Lawn of the White House.
Sadat and Begin were jointly awarded the 1978 Nobel Peace Prize for their efforts even as the Arab League suspended Egypt from membership in the Arab League until 1989.
The peace process nevertheless continued leading in 1982 to the establishment of full diplomatic relations between the two former adversaries. That step made Egypt and many other Arab states to officially recognize Israel.
Egyptians LOVE peace, visitors of all nations, and love Americans!
The Egyptians I know are some of the most honorable people
in the world and are steeped in traditions that help humanity understand themselves!
When approached with a clear intention, every moment of this trip will offer treasures and opportunity for transformation, growth, and sacred communion!
Before practical logistics, above all, we encourage you to travel with an open mind and open heart.
The cultural differences that you will experience are part of the adventure. Our guides and friends all speak English and love learning about you and your culture!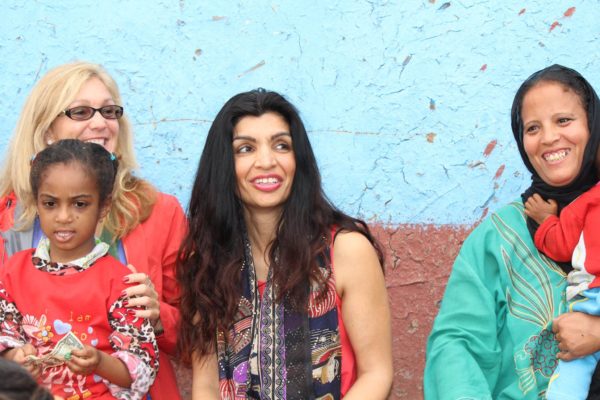 Part of this experience is to make you aware of when challenges come up how do you co-create reality?
This is also true for any difficulties or challenges that emerge. As much as possible, approach every circumstance as a part of your journey.
You will find the Egyptian people incredibly welcoming and eager to help make your journey everything you have hoped for. We encourage you to embrace their open hearts and the exuberant quality of Egyptian life.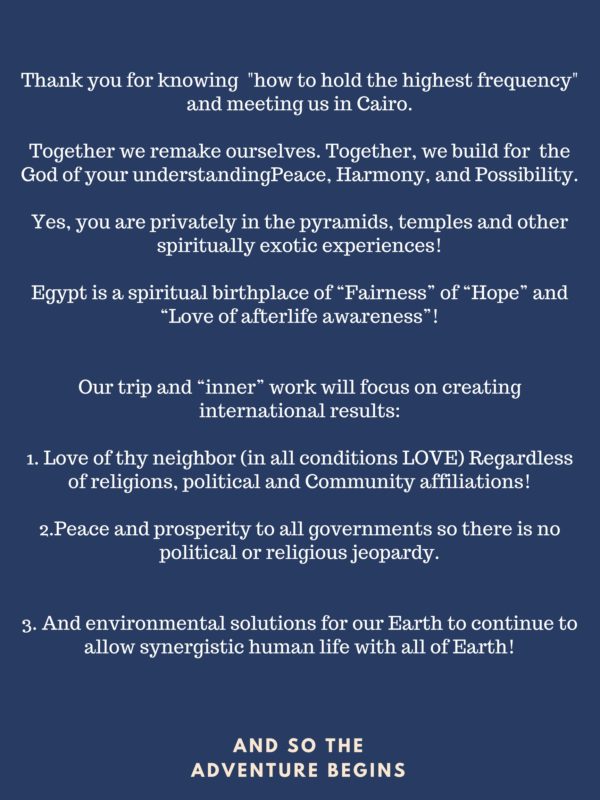 The more you can smile and relax, the more you can receive.
The more receptive you are, the more you will feel comfortable and at home as you move through your trip.
The following practical details will help with your planning and preparations.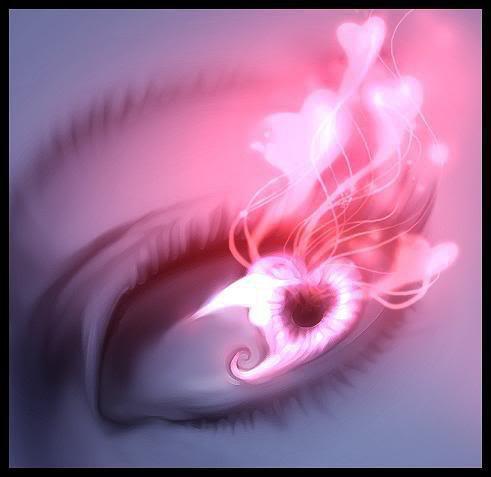 Questions about my Travel Arrangements from my home?
Dec 26th and Dec 27 day are travel days to get to Cairo!
If you are flying to Cairo on Egypt Air from anywhere in the world.
In all international travel please allow enough time (at least 3 hours recommended) to get to the Egypt Air terminal at your local airport.

Arriving in Egypt:
When you arrive in Egypt, our Quest Travel agent will greet you at the gate, and most often they are able to arrange for your visa.  If they are not, be assured there are so many friendly people to assist you through customs! It is a very secure area!  A Quest Travel representative will be there as close as possible to your arrival to help you with your bags and tranport you to the Mena House Hotel.
The whole process is very smooth and welcoming. Hatem (in the blue hat to the far left) has met many guest at the airport! He speaks perfect English and will have a picture of you from your passport! Hatem or an equally wonderful Quest Tour representative will be at the airport to meet you!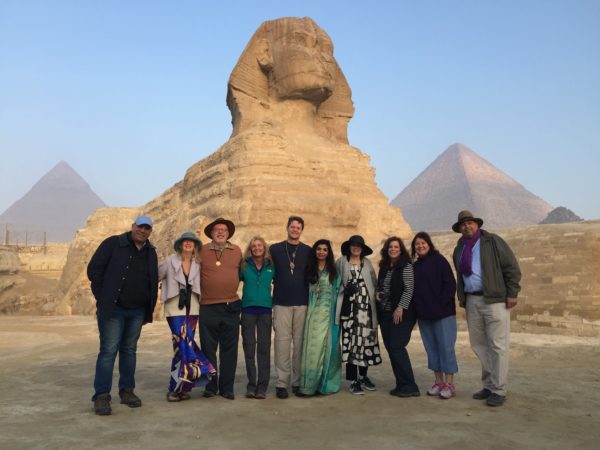 On your return home, when you're ready to leave we will arrange for transportation back to the airport. Your last day in Cairo is Jan 9th.  If you are from the UNited States, you will most likely arrive home on Jan 9th as you "Gain time" on your return!
If you are interested in extending your stay, we can arrange for extra days at our hotel after the tour. Please let us know in plenty of time if you wish longer accommodations at the end of your trip, so we're able to make those arrangements for you.
 
Hotels and such:
We stay in the places Princess Diana Stayed in Cairo: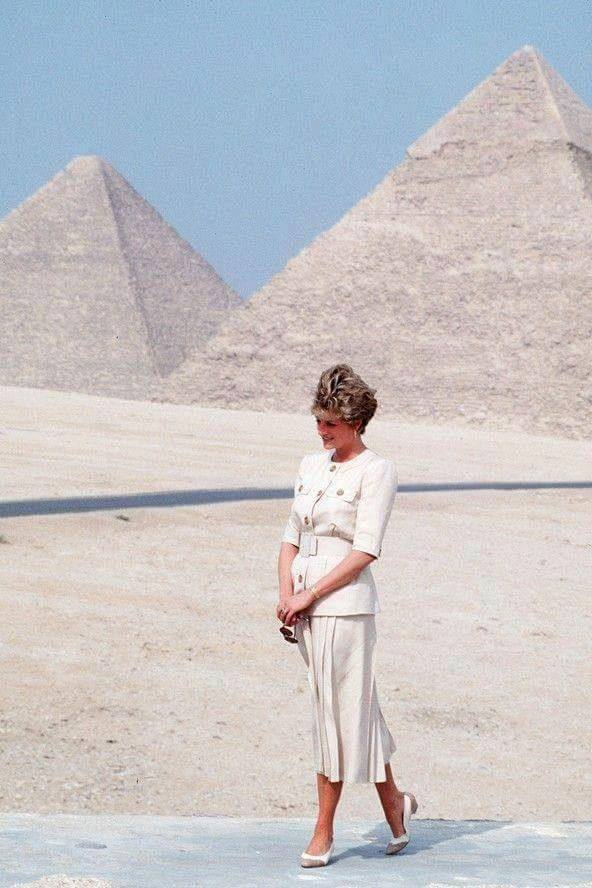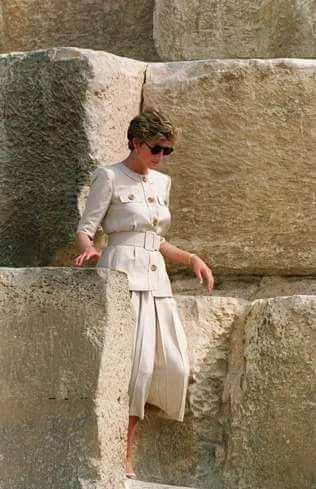 What about my Health Preparations & Precautions? Inoculations?
There are no inoculation requirements for persons with flights originating in the US or Europe, however it is advisable to consult your physician regarding your personal needs.
Doctors and medical facilities are available to us in most places, however we strongly recommend that each participant bring their own personal preventive medicine supplies plus any medication needed. Your good health and good physical condition will enhance the experience for you as well as the rest of the group.
The most common health issue is diarrhea. It is recommended to take megadophilus or acidophilus daily for at least one month prior to travel, as well as for the duration of the trip. You may also want to bring an herbal immune-support formula.
FYI:  Dr. Larsen is a trained medical doctor. She does not practice as a doctor in the United States! She practices Faith healing, energy medicine and medical intuitive work. Many on past trips healed in extraordinary ways! It is Source, G-d, and your belief that heals! Dr Larsen helps you realize it and become the "space' for the healing!
Many meet Dr. Larsen on her transformational retreats to get connected to Faith healing possibilities!
Dr. Larsen is an expert in Mind, Body, and Spirit connection.  She is trained in Ayuveda, TCM, NLP, LionHeart, EFT to name a few additional certifications! She has learned the mystery school teachings about healing and shares them with you on this journey as you may inquire!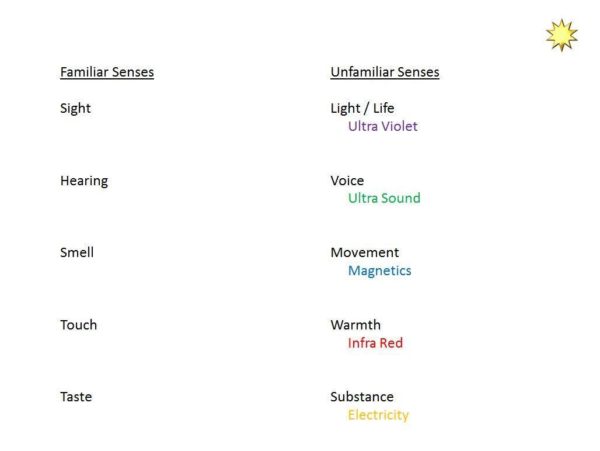 You will learn about your MIRACLE SENSES!  Egyptian mystery school teachings share about having 365 senses!
That is 360 senses beyond our normal 5 senses!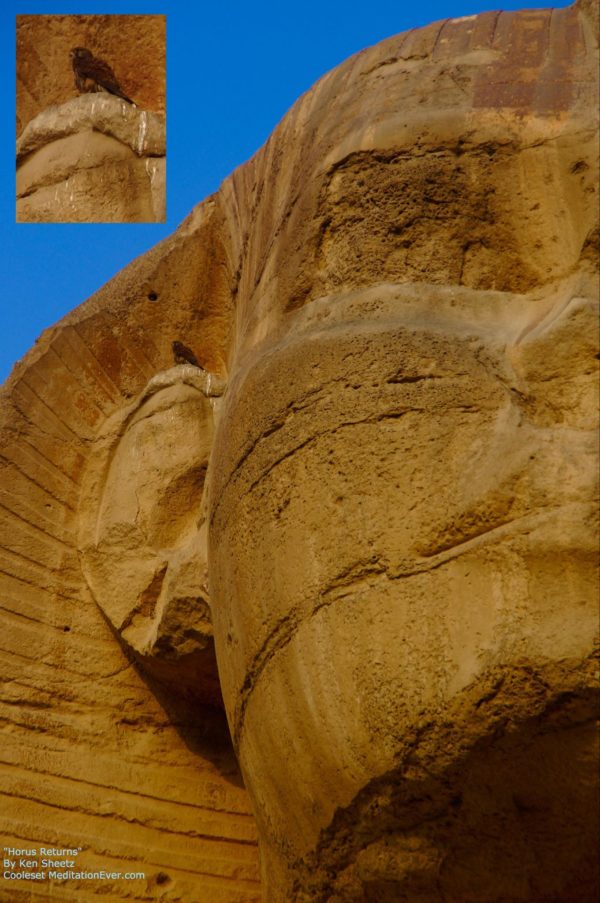 Do not drink the tap water in Egypt! We strongly stress the use of bottled water (only) for drinking and brushing your teeth. Bottled water is readily available everywhere we stay.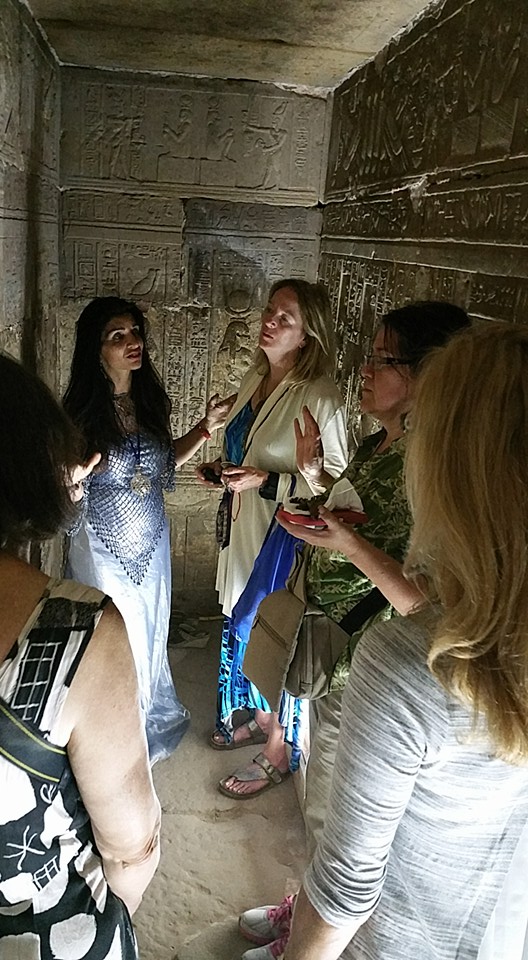 Suggested Healthcare Supply List:
Grapefruit seed extract (helpful for the stomach bug)
Topical antiseptic and salve
Charcoal tablets (dysentery)
Vitamin C (Alacer-Emergen-C for easy travel)
Band-Aids, ace bandage, moleskin for blisters
Insect repellent
Aloe Vera gel or other skin cream
Sunscreen , Chapstick/lipbalmWe get our supplies at a discount by being part of Thrive Market!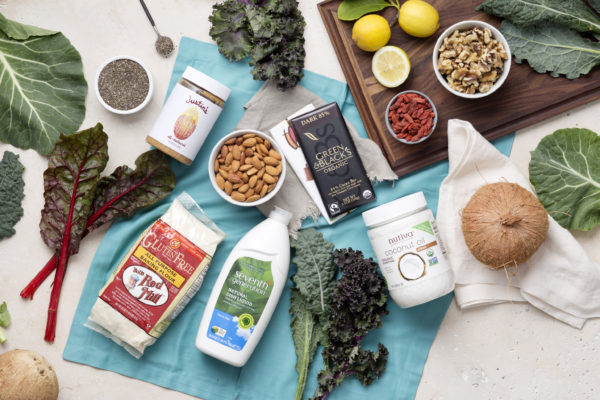 Golden Seal powder (for immune boosting)
Small bottle of vodka (for sterilizing your toothbrush if it goes into contaminated water.)
Immodium, Lomatil, Pepto Bismal (some swear by this as a preventative), or other diarrhea medication of personal preference – local medications are available.
Remember when flying to keep medications handy in carry-on bags, not packed away in luggage.
Check online for current TSA restrictions regarding medication and carry-on bags.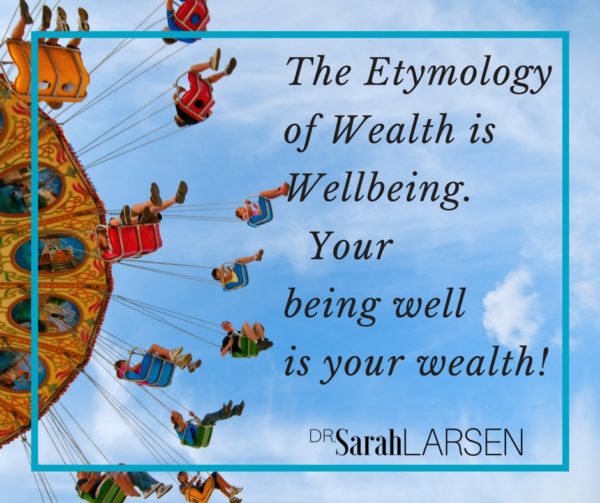 Luggage and what to pack?
Please check baggage restrictions on your carrier to be sure that you comply with airline restrictions. We highly suggest that you only bring one checked suitcase with you to Egypt and bring (or buy) an additional empty duffel bag in order to have ample space for packing your purchases upon your return. If you arrive in Egypt with two full pieces of carry-on luggage, you will have no room on the return, so pack light and have fun shopping while you're there!
Although you will never be required to carry your own luggage, you will appreciate traveling light. Remember that whatever bag(s) you bring will also need to be stored in your stateroom on the boat.
When packing for Egypt, remember to pack your valuables as well as an extra set of clothes in your carry-on luggage just in case your checked bags are delayed.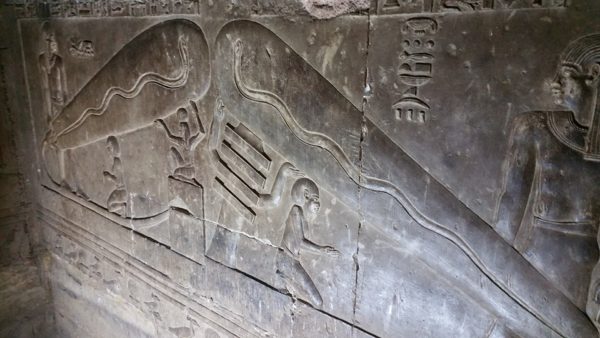 Camera and Cell Phone questions?
If you are not using a digital camera, be sure to bring all the film and extra batteries that you will need as these are very expensive there. Likewise, film should be brought back to the states for developing. The film expiration date should be carefully checked and be good for at least one year from the date of purchase as it seems to deteriorate rapidly in Egypt's arid climate.
Bring along a flash attachment with replaceable batteries if possible. This, along with your wide-angle lens, will produce the best results when photographing inside temples, pyramids and tombs. Since electric current in Egypt is 220 volts, special adapters and plugs will be needed for rechargeable units. Of course, if you are using digital technology, you need to bring extra memory cards. There is very limited access for downloading your images during the trip unless you bring your own computer.
There are currently two sites on the trip that don't allow cameras. We'll be sure you're aware of them before we arrive. The rest of the temples are open for photography.
Packing Suggestions
Please do not over pack! Keep in mind the ease of traveling without too many bags. Laundry is available at the hotel before and after our stay on the Afandina. Also, remember that you will want space for your purchases on the return home. We will have lots of opportunities for shopping and that there is a wide range of treasures to buy at the markets.
Here's a basic packing list for your trip:
Small daypack for daily outings— helps to keep your hands free
A strap or small bag for carrying your water bottle on daily outings
Notebook and pens for journal writing
Sunglasses and hat
Small flashlight (may be useful in some of the temples and the Pyramid)
Swimsuit (towels are provided)
Sunscreen and insect repellent
Toiletries (must be compliant with TSA rules or placed in checked luggage)
Earplugs (these can be very helpful during flights and also in shared rooms)
Eye mask for sleep during flights
Electrical adaptors for charging your phone, computer, and other appliances (European type with two round pins) An adaptor is adequate for most appliances. For certain appliances a converter is also required.
Tissues in travel size packages (public toilets may lack paper)
Moistened towelettes for daily outings
Hand sanitizer
Camera with film and/or extra memory cards
You will want to remember so much of this trip!
TSA approved luggage locks for the flights
Clothes that are comfortable and loose-fitting, keeping in mind Egypt's conservative culture
Good walking shoes, cotton socks, and good sandals (ie. Teva) with back support
Sacred objects and ceremony items for the altars at our ceremonies. (We will be allowed to create simple altars during our private ceremonies at the Sphinx and Philae so you may want to bring a special stone or other objects to be charged during the ceremony.)
Personal snack food: Nuts, seeds, energy bars, favorite tea, etc. This can be especially helpful during our longer travel days at airports and on buses.
Personal reading material as space allows
Documents
All participants are required to have a passport that is valid for six months beyond our return date.

This is to be carried on your person or stored safely at all times. It is highly recommended to create THREE photocopies of the picture page that includes your passport number. Leave one copy at home and bring two. Our trip guide will carry a copy and you will want an extra copy of your own. You will have a safe in your room for storing valuables, both at all hotels and on the Afandina.
MENU:

FOOD
We will be served only the most authentic Egyptian cuisine, made from fresh ingredients purchased each day from farmers and fishermen along the river.
From freshly-caught watermelon to the delicious hand-made felafel, each meal is a feast to be savored.

Most meals are included and are cooked to order!
We have our own personal Chef on the Afandina!
At the Five Star resorts: SO many options!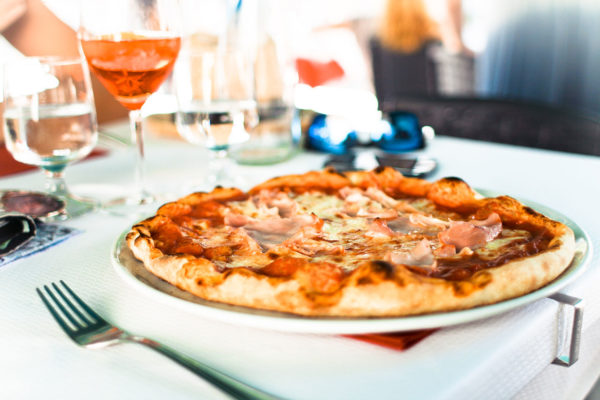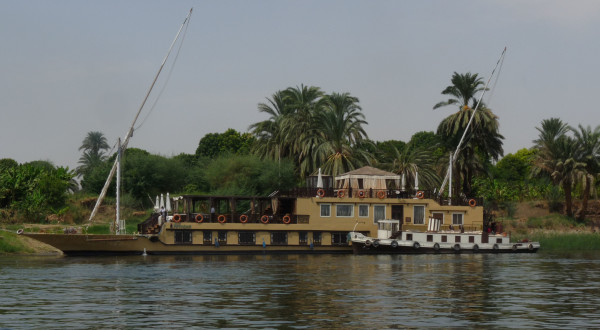 A visa is required for entry into Egypt. The cost is $25 for US, Canadian or European citizens. Those traveling from the states can pay for this in US currency. You will purchase your travel visa at the airport in Cairo. No copy of your passport photo is necessary. If you are traveling from another country, please check with us or your embassy to be sure that you don't need to purchase your visa in advance.
Trip Insurance, is it really necessary?
A journey of this nature represents a significant financial investment. We strongly recommend that all participants obtain short-term travelers insurance covering unexpected circumstances, including lost baggage, accident/life insurance, and trip cancellation. Trip cancellation insurance covers your losses on non-refundable air and land costs for trips canceled due to personal or family illnesses and unforeseen documented emergencies. It also covers the cost of emergency evacuation from remote areas.
We recommend trip insurance through Travel Insured International. In order to receive full benefits, you must buy trip insurance within 14-21 days of the date you submit your deposit.
For more information please check with your personal travel agent or with Travel Insured International at www.travelinsured.com or 1-800-243-3174. This insurance only covers US citizens departing from the US. We suggest others consult with a local agent to find a reputable company.
Climate and Clothing
The climate in Egypt is dry year round and sunshine every day.
Egypt Climate and Weather. Throughout Egypt, days are commonly warm or hot, and nights are cool. Egypt has only two seasons: a mild winter from November to April and a hot summer from May to October. The only differences between the seasons are variations in daytime temperatures and changes in prevailing winds.
Whatever the activity, women should remember that Egypt remains a conservative country and we wish to be respectful in our appearance.
Keeping this in mind, bring comfortable, loose-fitting clothing for layers in the daytime. Light jackets and/or sweaters are advised for early morning and evening and also for the air conditioning in the hotels.
We will be doing a lot of walking so wear comfortable walking shoes—sneakers or sandals with a supporting back strap are ideal, and cotton socks. Pants are completely acceptable for the women and are definitely recommended for camel and/or horseback riding. In the evenings when we dine at our hotel or local restaurants, somewhat nicer attire is appropriate. Casual dress is acceptable, though you might like to plan for one or two evenings. We will certainly have opportunities to be festive. Again, don't overpack! You will have a chance to shop along the way where wonderful, fun clothing can be purchased.
Hairdryers are provided in your rooms at the hotels and on the boat. The hotels provide a tea/coffee pot in your room.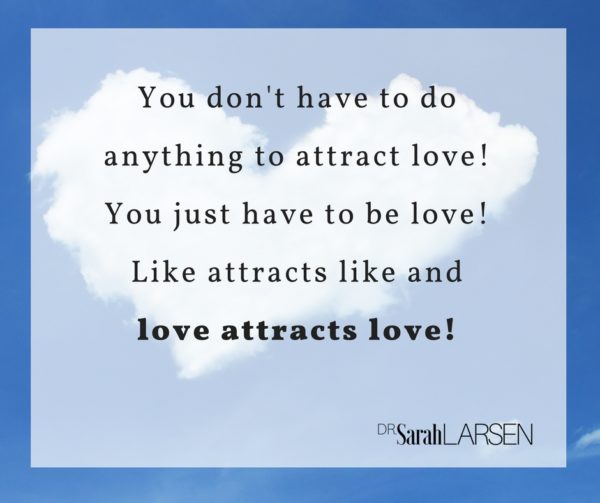 Communications: On this journey you will be giving your self to a higher purpose because you will connect with yourself!
Computer: Both hotels have free internet access within the hotel. You will need to bring an internet cable if you want to use your computer in your room at the Mena House. The Afandina also has internet access with wireless service that you can purchase. To communicate with your friends and family back home we recommend downloading the app Whats App which offers free international texting.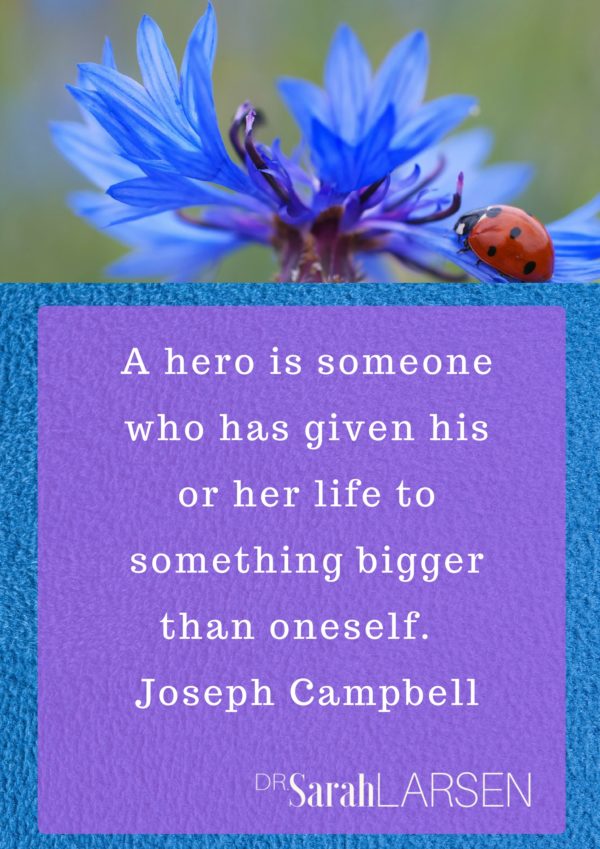 Telephone: International telephone calls from Egypt are easy to make, and can be dialed directly from our hotel rooms. They are much more expensive from Egypt than from the States, depending upon your international plan. You can also call the US, then have your party call you back at a fraction of the cost (or pre-arrange your own "calling code"). We recommend that you get an international calling card from a reputable phone company that has an access number in Cairo, such as ATT or MCI, or contact your phone service provider for special arrangements for international calling plans.
Prior to our departure, you will receive a complete list of contact numbers to leave with those at home, including the hotel numbers where we will be staying. In case of emergency, you can always be reached through the Quest Travel office in Cairo, 011-202-376-8000.
Money and Currency Exchange
The currency in Egypt is the pound, which is equal to 100 piastres. As of July 2016, 1 Egyptian pound (E£ or EGP) = $0.112 USD, or 11 cents; $1.00 USD = E£8.87.
We recommend waiting until you are in Egypt to exchange money. You will have no difficulty exchanging U.S. dollars into Egyptian pounds. Our hotel will be able to accommodate you during our stay in Cairo. Hotels and most larger shops will take VISA (not as many take MasterCard).
Traveler's checks are not recommended – they are more of a hassle because you are required to show your passport in order to cash them, and many shops will not accept them. ATM's are not always convenient, although they can be found when necessary.
A money belt or other safe, secure means of carrying money and documents is advisable. Once currency is exchanged, it helps to carry many one and five-pound notes for gifting and tipping. You will have a personal safe in your room at the hotels and on the boat for securing your valuables at all times.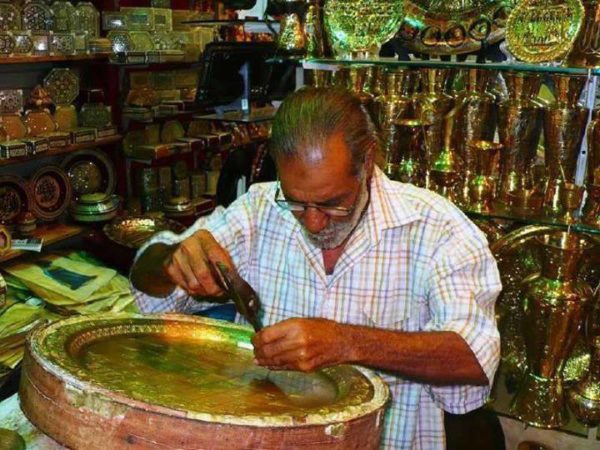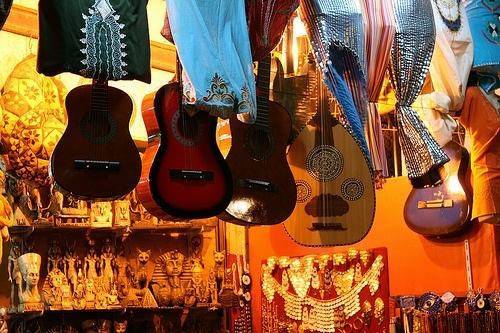 What are the extra costs on the trip? How much will I need?
Many of your meals are covered, including all your breakfasts.  All your meals when you are on the boat are included – plus lunch or dinner most other days.
Tips to all the temple guards, the hotel staff, etc. are covered already in your package.  However, tips (1LE – 5LE, which is 16¢ – 80¢) are common, for every little thing, and you will find the service so excellent you will likely want to have small change.  You can change traveller's checks for this, or bring cash, and either way change it at the bank.
Tips for our guides and cruise staff are NOT COVERED; please plan on approx. $10/day, PLUS $5/day/drivers – this is per guest (YOU) NOT per couple. So the trip is 14 days x $15/day = $210 But of course it's up to you – at the end of your trip it will seem like nothing compared to all that has been given to you 😉
VISA: 
You must  bring $100-$25 each in US DOLLARS for your VISA – please make sure you have at least this much cash on you, in exact change!
Note: Egypt was planning on raising the cost of tourist visas on arrival from $25 to $60 as of March 1, 2017. That's a 140% price hike, which is substantial, especially for a country that is trying to rapidly grow their number of visitors after a rough several years.
A couple of days later, Egypt decided to postpone their visa on arrival fee hike until July 1, 2017. This was the second time in a couple of years that Egypt has backtracked on introducing stricter visa policies. In 2015 Egypt planned on discontinuing visas on arrival for tourists, though they quickly postponed that, realizing the impact it would have on tourism.
This is why we are advising have $100 worth and most likely the visa will still be $25.00
It will be collected when your visa is handed to you. We will buy your OWN VISAs at the arrival terminal; the guides are no longer allowed into secure areas of that terminal at all!!  They will meet you out front, and we will discuss this further in the Airport Tips e-mail coming in a later e-mail.
AIRPORT PICK-UP
Some of you are coming in on different days and at different times.  YOU ALL HAVE INCLUDED AIRPORT PICKUPS AND DROP-OFFS.
DRINKS
Once we are in Egypt, even for meals which are covered, drinks are NOT.
Alcohol is quite pricey, even wine, but there's a great little duty free shop in Cairo at the airport, and you can buy a bottle there if you like. Remember you will not be able to transport alcohol purchased in Cairo on the plane to Luxor, except in your luggage.
A liter of bottled water costs about 10LE (Egyptian pounds, which is about $1.30) and will be available from all the restaurants.  Nothing is expensive, nearly everything can be charged to your room or to a credit card, so it's up to you how much cash you want to bring.
HOW MUCH SHOULD I BRING?
A general rule of thumb is plan on $500-1000 if you're not into circulating a lot of money, and at least $1000+ if you are, and bring a credit card as back-up or for large purchases (see my SHOPPING e-mail next week!) We do not suggest traveler's checks, since you have to change them.  Just bring enough cash to get you started, and then visit the ATM.
KEEPING IN TOUCH
Internet Access
There is online access available everywhere: it may not be fast, or extra reliable, but it is available for a fee at each hotel.
On the cruise ship, there will be internet access. There IS internet on the boat, which also has a daily fee of less than $10 a day.
Cell phones
Got one? It could be invaluable for staying in contact back home.  Call your service provider and get the international (non-toll-free) number for dialing the provider from Egypt in case you have a problem.  #611 (or whatever) might not work to get to customer service if your phone's not working!  Make sure you have an international plan, or whatever will provide the cheapest rates.  Also, check into texting, which may save you a lot of money.  Last, make sure your phone is compatible with international calls – if not, you may want to get a phone card or make other arrangements (such as trading a phone with someone who does have a compatible number).
International calling
It can be expensive – some are over $2 per minute.  So make sure you know how much it costs before you give your number out.  Again, consider a phone card, or giving the phone numbers of the hotels out to loved ones (you can get the hotel numbers from their web sites if you like).
Emergency Calls from the States
Call 424-757-4197 point of contact for emergencies.  However, should your emergency contact need to reach Egypt during the day when it is night-time in the US:
Call Quest Travel in Cairo, at 011-202-376-8000
Please bear in mind the time difference of 10 hours ahead when calling from the West Coast, 8 hours ahead of Central Time, and 7 hours ahead of the East Coast.
We urge you to leave your phones (and your computers!) at home as much as possible and not to be too tied to work either – Egypt is a mystical, magical place, and the more time you spend with your head in the usual game, the less you will get to experience this once-in-a-lifetime opportunity!