"Taste Your Magic Elite Retreat" Ceremony and Mystery School Activation at The Sol Sanctuary
Are you ready to "taste your magic" in the tropical paradise of Costa Rica?
Do you want to immerse yourself in the heavenly forests, waters, volcanoes, and sun of this tropical paradise and open yourself to the vibration of Costa Rica's primal transformative powers?
If you feel that big and bold "YES," then you are invited to explore and taste your divine nature and discover your deeper purpose and "divine right action" in the world
When: June 19th – June 23rd, 2019
Where: Costa Rica at the divinely appointed The Sol Sanctuary
Activations, Transmissions, and Ceremonies
Solar Plexus Empowerment ~ Clear trauma from patriarchal wounding to open up and deepen in a healthy relationship with the Divine Masculine principle
Divine Interventions Mentor Healing Q&A throughout the day~ Navigating the unconscious uprising of your greatest wounds to access your greatest medicine
Cacao Ceremony and Galactic Council Transmission for unifying Divine Feminine and Divine Masculine Principles on all four levels of your embodiment?
Sound Bowl Shamanic Clearing and Neurological Repatterning ~ Midwifing your Divine Parent to care for your Phoenix Child in a new way ~ Bridging the Divine Mother and Divine Father roles within you
Sacred Oils for Third Eye Anointment Blessing of Discernment to open your inner eyes and heart to be able to recognize and trust the true Divine Masculine embodiment
Holy Waters of Compassion Rebirth Ceremony ~ Anointing your Divine Feminine consciousness with Flowers ~ Live Musical Performance
Third Eye Anointment Blessing of Discernment to open your inner eyes and heart to be able to recognize and trust the true Divine Masculine embodiment
Small Circle Dialogue ~ Your visions and dreams matter ~ Yes, you can hear the Angels! ~ Reconnecting with your "Imaginary" friends that we all know are REAL!
*Zip lining Conquering Fear, speeding up all of your processes to ZIP THROUGH LIFE
Meet your retreat leaders!
Your Leaders: This retreat is a quantum healing and activation led by your trusted guides… Ruth V. Mellor, Melisa Campbell, and Dr. Sarah Larsen.
Heal, Feel, and Thrive as you immerse yourself into the living transmission of nature's embrace and through the facilitated ceremony, sound healing, movement, quantum activations, and divine guidance from the active portal of Costa Rica.
This "Taste Your Magic Elite Retreat" is an immersive experience designed to rejuvenate your soul as you deepen in your heart connection.
Our container of transformation and vortex of love is The Sol Sanctuary. Your soul and physical body will be sheltered and nurtured in one of the most beautiful sacred spaces in the world that is also sacred to the ancient mystery school teachings.

You may have experienced miracles of healing empowerment during prior retreats with your leaders in Cancun, Mexico, Puerto Rico, Cairo, Egypt, Sedona, Ojai, or other Miracle Makers ELITE RETREATS!
These retreats have laid the foundation for this powerful Costa Rican immersion that will unblock your vital energy and intuition.

In this interactive ceremonial space, you are encouraged to dive into an ocean of self-care, self-compassion, and self-love that is guided by the light of Your Miracle Making Frequency.

Ruth V. Mellor

Founder of Taste your Magic Elite retreats
and SilverDance Ranch, Utah
Oracle Sessions
Animal Communication
Shamanism
435-851-4475
silverdanceranch.ruth@gmail.com
Ruth V. Mellor believes humans think and animals feel and you are both. An animal communicator, she was born with the ability to communicate with animals and has helped thousands of people resolve many types of behavior, health, attitude and relationship issues with themselves and animal companions.

She has developed techniques to help people move from conflict to cooperation in their relationships.
Ruth owns and runs Silver Dance Ranch. This ranch is dedicated Native land to explore the human-animal bond. Through stories, exercises and practical examples, Ruth shifts your DNA, thoughts, and emotions. This affect you and your animals' behaviors. She says that once you understand how to think like your dna, your energy and your animal friends you can build satisfying partnerships with everything.
Melisa Campbell
Founder of The Sol Sanctuary
Angel communication, Reiki
801-512-9102
www.thesolsanctuary.com
findyourlightwithin@gmail.com

The Founder of The Sol Sanctuary, Melisa Campbell, shares the best time for a spiritual retreat is not from mid-December to April (the dry season).
It is best this year to avoid the peak tourist season.
Yes, the dry season boasts plenty of sunshine making it an ideal time for exploring rainforests and lounging on beaches, yet it isn't the ideal time for spiritual work!
Because the dry season is the most popular (and expensive) time to visit.

Spiritually speaking, Summer Solstice is the Best Time to visit!
It is a time for the wisdom of the ancient & high civilization in Modern Day Costa Rica!

June 21st (or 22nd) is the summer solstice for the northern hemisphere*.
Solstice in Latin means "sun standing still.
Many ancient cultures had ceremonies on the solstice.

They celebrated light and fire. Many people also thought it was a time for love and growth.

During June and July, rain showers pause briefly, and Costa Rica's forests burst with green foliage.
Dr. Sarah Larsen
Medical Intuitive, Producer, Miracle Makers Way
Founder of Miracle Makers Academy
Mentoring and Transforming communities on 5 continents
Can read your mind, body. and soul like a book and help you accomplish with Miracle Frequency what you are here to accomplish!
424-903-6633
www.drsarahlarsen.com
drsarah@drsarahlarsen.com


Sarah Larsen, MD is a Medical Intuitive, Business Coach and Consultant to high impact entrepreneurs and visionaries, and Inspirational Speaker.
Dr. Sarah is host of Miracle Makers on UBN Radio/TV at Sunset Gower Studios and is heard worldwide on iHeartRadio. Currently getting ready for filming season 4.
Dr. Sarah received a degree as Medical Doctor from the Medical University of The Americas and is an Ordained Interfaith Minister from All Paths Divinity School. Born in Pakistan, her education as a healer began in rural villages with her grandmother. Her approach to intuitive healing is described as merging ancient wisdom, modern science, and spirituality for optimal living and completion of your soul's journey!
Please call Dr. Sarah Larsen at 424-903-6633 to apply and for complete retreat details!?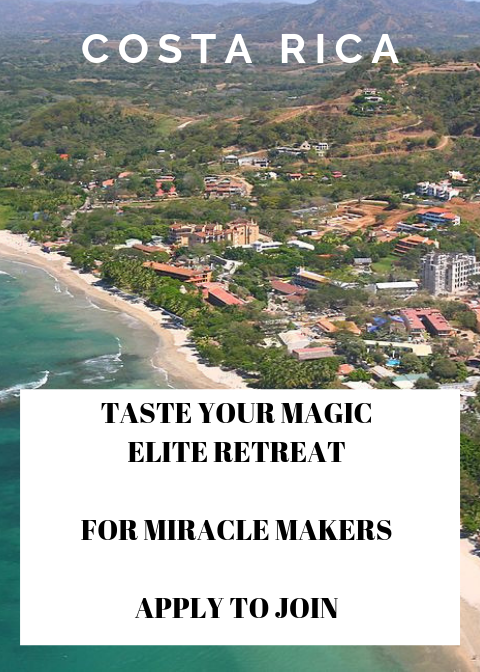 Welcome to your Costa Rican home!

The Sol Sanctuary
Esterillos Oeste, Costa Rica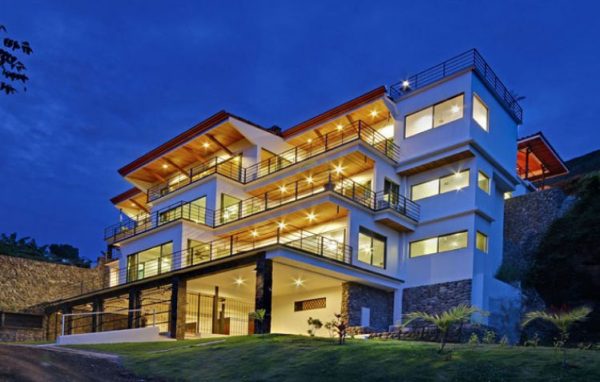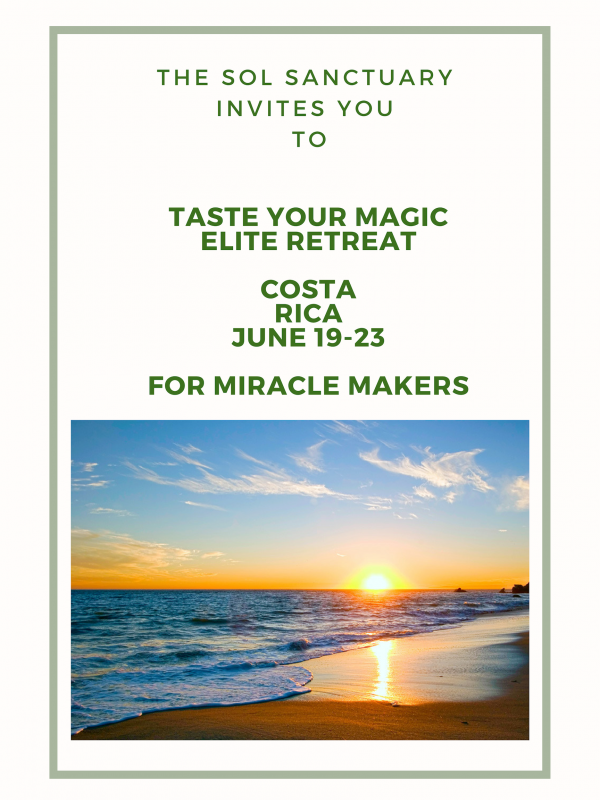 The Sol Sanctuary invites you to experience:
Initiation Sound Healing Consecration to move from the mind to your heart ~ Allow yourself to relax and receive ~ Surrender to the flow of the Healing Immersive
Root Crystal Healing: Lifting the burden of karmic responsibilities and unconscious attachment to carrying the pain of others that is not your own
Your Relationship with the Earth ~ Costa Rica Rooting Healing for elemental re-balancing and foundational alignment of your first four chakras with the heart of Miracle Makers~ Animal Medicine Totems
Kundalini
Divine Feminine Healing Mentor Q&A ~ The lightning path of embodying your Higher Self in a modern world
Kundalini Sacral Chakra Dance of Prosperity with the Order of Dakinis ~ Activating your creativity for receiving greater abundance in every area of your life ~ Includes Golden Tara, Lakshmi & Saraswati
Climbing Your Tree of Life ~ Reconnect with your Star Family lineage ~ Divine Genome Activation: it's safe to be different, it's safe to be stellar!
Group Healing Small Circle Dialogue ~ Worthiness empowerments, Divine Feminine receptivity, and learning how to receive praise for your Higher Self embodiment
Becoming The Star within the Tree of Life Transmission ~ Rooting your Soul's brilliance to the Earth plane
Animal Shamanism
"Embodying Heaven on Earth" Calling in A New Level of Extraordinary Frog and American Crocodile Medicine
Costa Rican Strawberry Poison Dart Frog
The Costa Rican strawberry poison dart frog is a unique creature for many reasons, but in particular, because of its ability to morph. It can change from red bodied with blue legs to green with black spots to navy blue.
These frogs, found all throughout Central America and Puerto Rico, are only toxic in the wild, creating its poisonous defenses from natural elements found in the jungle. Once domesticated, a diet of fruit flies and store-bought goodies doesn't quite do the trick.
Despite their small size, strawberry poison dart frogs have been quite a successful species and are in no danger of becoming extinct.
American Crocodile
The American crocodile, found in southern Florida and all the way down to Ecuador is well populated in Costa Rica. The average crocodile is 10 to 13 ft. long, but in Costa Rica they measure about 13 to 16 ft. long. They can often be seen congregating by bridges where unenlightened tourists toss them food for photos. This species is currently threatened and now only about 1,500 American Crocodiles live in Mexico, Central and South America. The biggest threat to their existence is loss of habitat.

The darker skin and broader snout of the American alligator distinguish it from the American crocodile, shown above. Alligators are more numerous in Florida than crocodiles, are darker, have a broader snout, and are typically found in freshwater habitats.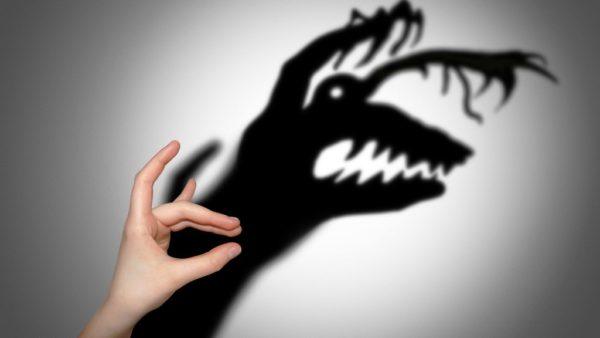 "Honoring Your Playful Fearful Child to See Your Light"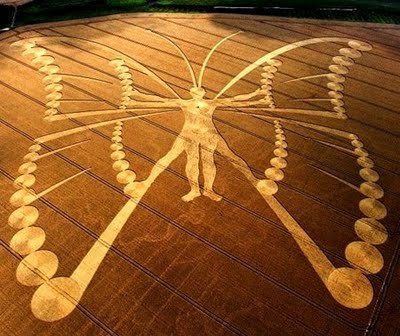 Embodying your Sacred Purpose
"Opening to the Sacred Doors to Your Heart "
Channeling Zero Point Energy Ceremony ~ Zero-point calibration to seal the Immersive transmissions within you to re-enter the world as your sovereign self
Your Quantum Mind & Quantum Heart and Umbilical Cord Healing of the wounded Mother archetype to clear trauma and unnecessary striving to earn your Divine Mother's unconditional love
Small Group Work: Sisterhood / Brotherhood Healing ~ the end of competition for love ~ why you're ready to rise together
Accepting the Thorns of Your Rose: Clearing oaths and vows that repress your personal truth so that your heart may clearly communicate what is meaningful for you — free of external conditioning
The Rose Ceremony ~ Reconcile with your authentic self-worth in The Sol Sanctuary and guiding you to the true Source of your worth
Sapphire Blue Flame of Divine Will Activation for healing from codependency in every area of your life to embody your sovereignty with confidence and grace
Divine Intervention Healing Q&A ~ Moving beyond the trauma of codependency to blossom in your true beauty
Letting go of the thorns in your side: Rainbow quantum healing to release your heart from the disappointments of the past and magnetize a new chapter of support in your life

Very Limited Space only for those that meet the application process for: TASTE YOUR MAGIC ELITE RETREATS FOR MIRACLE MAKERS.
Please call Dr. Sarah Larsen at 424-903-6633 to apply and for complete retreat details!

WERE COSTA RICAN SPHERES ANCIENT RECEIVERS?
Original article by Doug Yurchey

One of the strangest mysteries in archaeology was discovered in the Diquis Delta of Costa Rica. In the 1930s, the United Fruit Company planted huge quantities of bananas in this region. Workers clearing forests found numerous spherical stones. The balls were perfectly round and were anywhere from a few inches to over 8 feet in diameter. They were composed of solid granodiorite; a very hard igneous rock. The mysterious balls were cut, trimmed and then polished to a high luster.

One of the largest spheres (over 2 m in diameter)
This picture is ©1997 Edwin Quesada
(reprinted with permission).
The spheres number over 300. The large ones weigh many tons. Today, they decorate official buildings such as the Asamblea Legislativa, hospitals and schools. You can find them in museums. You can also find them as ubiquitous status symbols adorning the homes and gardens of the rich and powerful.
Columbus visited Costa Rica in 1502 on his fourth voyage to the New World. Prior to that time, the Costa Ricans had no recorded history. There are no Pre-Columbian monuments like there are at Copan or Tikal. There are no ancient, stone cities in this area. Referring to the odd spheres, Ray Vaughn has written: 'Costa Rica makes up for in uniqueness.'
The Costa Rican Balls have been endangered ever since their discovery. Treasure hunters have destroyed many with the aid of dynamite. Agricultural activities have cracked and broken a number of these enigmatic balls. Banana planters have moved almost all of the balls. Presently, only 6 of these objects are known to stand in their orginal locations. The spheres have been relocated to the tops of hills and mountains as well as on islands many miles off the coast.
The source of these rounded rocks are absolutely known. The quarry was the summit of the Talamanca mountain range. Unfinished spheres were never found. Like the monoliths of the Old World, the Costa Rican quarry was more than 50 miles away from the final resting place of these mysteries.
In the 1940s, Samuel K. Lothrop studied these granite spheres. In his Archaeology of the Diquis Delta, Costa Rica, he suggested that the spheres were placed in 'astronomically-significant' alignments. We will never know if Mr. Lothrop's theory is true. Outside of a few exceptions, the balls were either utilized or stored at Finca 6 (Farm 6) in southern Costa Rica.
Everytime such anomalies are disovered, that do not fit the traditional picture, there are always those scientists who insist these formations are natural. The Bimini Wall or Road was claimed to be natural. The unexpected, underwater, Japanese Pyramid was also supposed to be unartificial. Here too, in Costa Rica, rational-thinkers abound with ideas on how the CRBs were formed. One is 'ejecta,' from when the Talamancas were an active volcanic range, cooled as it fell to Earth. Another is moving, glacial, ice sheets crushed and pushed all that was underneath much the way we would work a ball of clay with our hands. Some have theorized that their original intent was the same as what they have become thousands of years later: lawn ornaments or symbols of power.
The mysterious spheres were man-made.
What you have read so far are statistics and concepts that you could find with a little research on your own. What you will read from here on are ideas that you will not find in the usual sources of information. What if the CRBs were ancient power receivers? This writer has established, in previous articles, the possible existence of a prehistoric/worldwide Tesla system used by the descendants of the Atlanteans. The ancient monoliths, pyramids, stone circles and grand statues were not just art or architecture. They were the Utility Poles of the Gods. Wireless, power distribution is the key to understanding the pyramid civilizations. All we need is a stone, (crystalline) ground contact to tune in the power. Functioning like tuning forks, the stones vibrate or relay the EM world frequency. The Costa Rican Balls are all we need, in a cityless region, to expand the World Wireless; so that communications remain intact; so that ancient aircraft remain powered, etc.
The pyramids have astronomical and power-grid alignments. The ancient, stone circles have this grid pattern. The American mound-builders constructed mounds (in a pattern) around the main complex at Cahokia. In Africa, smaller Zimbabwes were built surrounding the central/stone complex. The spheres in Costa Rica could fit the pattern where their original locations truly had a significance. Remember the Olmec and their creations of (rounded) African stone-heads? In Vera Cruz, these spherical heads weighing many tons were discovered; isolated in the jungles and far from their quarry. The same purpose of relaying an EM wireless frequency could explain both the Olmec heads and the Costa Rican Balls.
In the modern stone-art known as lapidary, it is very difficult to make a perfect sphere that is 2 feet wide. To manufacture spheres out of a hard substance that is 6, 7 or 8 feet in diameter…is building on a scale above what we can accomplish today. For the ancients, it was child's play.
Sadly, CRBs are no longer unearthed on a regular basis like they were decades ago. New technologies such as ground penetrating radar may reveal more in the future. One last thought for those of you wondering about the wireless-energy explanation to the Costa Rican mystery…..The general shape of the top of an antenna: is a ball.