Find Answers to Your Most Troubling Questions with Soul Reading
Could a soul reading be the key to unlocking our full human potential?
Palm reading was taught to Dr. Larsen by her Grandmother.
She teaches you how to read your own palms to honor what her Grandmother taught her!
When her Grandmother transitioned, Dr. Larsen did a thousand readings in her honor!
Palm Reading is an ancient and tested tool for offering clear, personalized guidance for your journey.
Are you searching for answers to your most troubling questions regarding your health, relationships, finances, or life purpose?
Are you struggling to connect with your own inner guidance and the wisdom of your body?
As a gifted palm reader, medical intuitive, and medium, Dr. Sarah Larsen uses the wisdom of palmistry as a tool to peer into your past,
present, and future – and offer intuitive guidance to answer your most pressing questions and concerns.
Palm reading can help you determine where you are experiencing both success and resistance in relationship to your Life Purpose and Life Lessons right now.
Dr. Larsen teaches you how to read your own palm as you are getting answers.
Learn more about a session here
Dr. Sarah teaches a popular class on "How to Read Palms." Watch now to learn about your palm!
Topics covered in this class include (click title to watch the video):
Romance, Sexual Partners, and Emotional Attachments
How to Tell If Someone is Honest
Health Lines, Skin Texture, and Nails
The History and Science of Palm Reading
The Active and Passive Parts of Your Hands and Fingers
Life Line, Head Line, Heart / Love Line
Here are some example palm readings from a class Dr. Sarah teaches on "How to Read Palms."
Sample #1 (over 250,000 views)



Sample #2
What Can I Learn in a Palm Reading with Dr. Sarah?
Your fingerprints and the lines on your palms reveal key areas of information:
Your fingerprints reveal your Life Purpose (your area of greatest potential and fulfillment) and your Life Lesson (your 'shadow' self-seeking
conscious awareness in order for your Life Purpose to manifest)
Your fingerprints formed when you were in utero between the 14th and 16th week of development and do not change
Your fingerprints are an energy wave imprint of your soul's assignment: what you are here on Earth to learn in order to manifest your life purpose
Identical twins have different fingerprints – fingerprints are not based entirely on DNA
Scientific discoveries in the last 100 years reveal that the lines on your hands are a map of the major neural pathways of your brain – lines can change
The lines in your palms reveal your unique style of feeling, thinking, behaving, and communicating as well as your
special gifts (such as writing, healing or teaching), your career path and your physical stamina level
Questions People Have Asked During a Palm Reading:
Here is a small sampling of questions asked during a palm reading: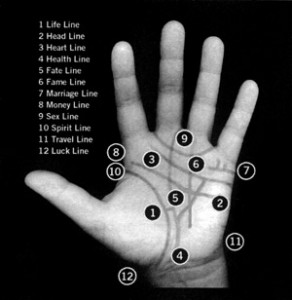 What do I need to do to become a vibrational match for an amazing relationship?
How can I transition from my current job that I hate to the one I really want?
What am I missing that my Higher Self really wants me to know?
Why can't I lose weight and what can I do to get the body I want?
What is my life purpose? Why am I here?
How can I help my brother with his addiction?
How can I earn more money and get out of debt?
Should I stay in this relationship or leave?
Should I move and if so, where?
How can I get more clients for my coaching business?
How can I get over my depression?
What "college major" is going to work out best for me?
What are your pressing questions? What do you want to know?
Why get a palm reading with Dr. Sarah?
Know your Life Purpose and live it
Know your Life Lesson and learn from it
Create financial security by living your Life Purpose
Manifest specific dreams and goals
Understand your career path and how to walk it
Understand your relationship issues and heal them
Know your body's stamina level and maintain it
Discover greater compassion for yourself and others
Deepen your spiritual connection and discover grace
Increase your intuition and self-confidence
Schedule a Session with Dr. Sarah today!
Are you ready to schedule a session?
Please call 424-757-4197 or use the contact form to schedule a session
You can schedule a session via Skype or at her office in Los Angeles.
Testimonials
"Sarah brought light to my mind and life. And has shown me my way, I always will be very thankful to her. Now I am writing this testimonial for thanking her and encouraging you. That you be as happy as me, what are you waiting for?"
~Gorka Oscoz Ocio: Vice President, PROHEALT S. L.  Spain

"Dr. Sarah Larsen is an amazing intuitive life coach palm reader and healer! She is precise caring compassionate and tuned in directly to source force."
~Tiffany Silver :  Author & International speaker, Transformational Healer and Featured Contributor – Huffington Post

"Your reading inspired me so much that I started focusing on using my healing abilities….Last night the opportunity arose and I'm going to become a practitioner of Theta Healing now!"
~Romon Govea Gomez: Story Producer, Junto Venture Productions

"It has been life transforming, a miracle really, I call her a my psychic doctor. Working with Dr. Sarah is better than winning the lottery."
~Yvette Momet 
Testimonial #1
Testimonial #2
"Thank you from the bottom of my heart for allowing me to be of service.
I'm so excited to meet the Genius in you!"
~ Dr. Sarah
Sarah Larsen M.D. is a premier provider of experiences, education, teacher training, and products that improve the health and well-being of the body, mind, and spirit. She provides an integrative approach to improving your health, relationships, wealth, and happiness.
These consciousness based teachings are grounded in the ancient sciences of traditional Indian, Egyptian, and Chinese Medicine. Combined with cutting edge research and modern western medicine, they serve as the foundation for Dr. Larsen's remarkable results with her students and private clients!