Will You Help Me Educate Children in Africa
for My Birthday?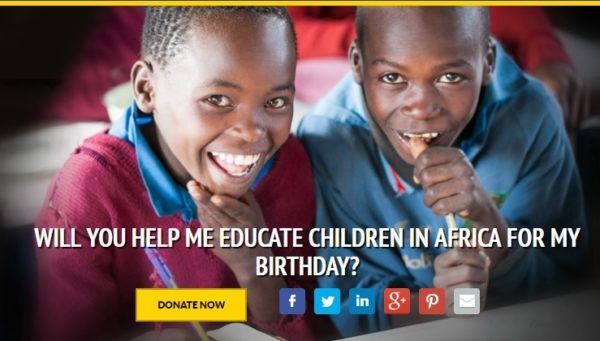 Dear Friend,
I would love for 57 million children around the world to benefit from us!  These kids are not attending primary school.
Together we can TRANSFORM that outcome and give an entire community the resources they need to become self-sustaining.
Would you please join me in helping an entire village escape the vicious cycle of poverty by providing access to an education. Education has been proven to yield a larger impact than ANY other form of help or aid we can give. It improves health, income, promotes gender equality, and reduces overall poverty.
Together our collective efforts will build and furnish a schoolhouse and give the entire community access to clean water, sanitation, food and nutrition, healthcare and alternative income training for parents.
Together we will help an entire village transform into becoming self-sustaining for generations to come!
Please share this campaign to help a village transform!
Please share this campaign as a way to contribute to the campaign!
Please share this campaign because for "the Grace of God go I" !
I highly recommend you sharing with me that you shared this and that you donated!