Why do I go to Hollywood every week to offer you free guidance for challenges in your life?
I believe we are all one. I believe, what happens to you, happens to me, our children and everyone on earth. I believe I experienced this (Oneness) in my near death experience. I became a doctor to help those that might have the least on our planet.
And now years of researching, learning and embodying eastern and western philosophies, I have an understanding of coherence and how your energy field effects you, our earth. and me. My spiritual heart can help those around me when I am in coherence.
Heartmath.org writes, "The Spiritual Heart — is in a way a little like a smart phone, invisibly connecting us to a large network of information. It is through an unseen energy that the heart emits that humans are profoundly connected to all living things. The energy of the heart literally links us to each other. Every person's heart contributes to a 'collective field environment."
Heartmath shares this in the video here:
https://www.youtube.com/watch?v=QdneZ4fIIHE&feature=youtu.be

This short video explains the importance of this connection and how you add to this collective energy field. The energetic field of the heart even connects us with the earth itself.
I believe that your wholeness and healing processes is our worlds' healing process. Your healing process is what can create the world you visuslize. And the world you dream of has a great deal of love for you.
This dream world is synergizing with you to give you what you want so you will have more to give in your natural state. When you truly understand this concept better. You can realize how much you and I affect one another by the things we say or do.
You would be a lot more gentle with yourself and with one another. Even when your emotions get the best of you.
When you become a beacon sending out cohesive heart field energy, those in your environment become more themselves.
It's a gift to feel everything so strongly.
It is a gift to have compassion.
It leads you to
Happiness. You will be happier when you know how you feel and can express who you are. Expressing yourself, your desires, no one else can do that for you!
Less inner conflict. Peace, integrity and understanding your own values. When your outside actions are in accordance with your inside feelings and values, you will experience less inner conflict.
Self-control. Self control is about being present in the moment. When you know yourself, you understand what motivates you. Your life is more in the present moment because you have access to deeper parts of you! You resist bad habits and develop good ones. You'll have the insight to know which values and goals activate your willpower.
Resistance to social pressure. When you are grounded in your values and preferences, you are you. You value you and are less likely to say "yes" when you want to say "no."
Tolerance and understanding of others. This is my favorite. I want to be the most loving version of myself. Your awareness of your own foibles and struggles can help you help others. You develop a fair and objective attitude toward yourself and others. Your "vision" encompasses everybody when you know yourself.
I also offer an online community that has access to me at $10.00 a Month!
That is right for $10.00 a month you can be part of an online community that helps you become the Miracle Maker you are!
You have access to me once a month working on your challenge: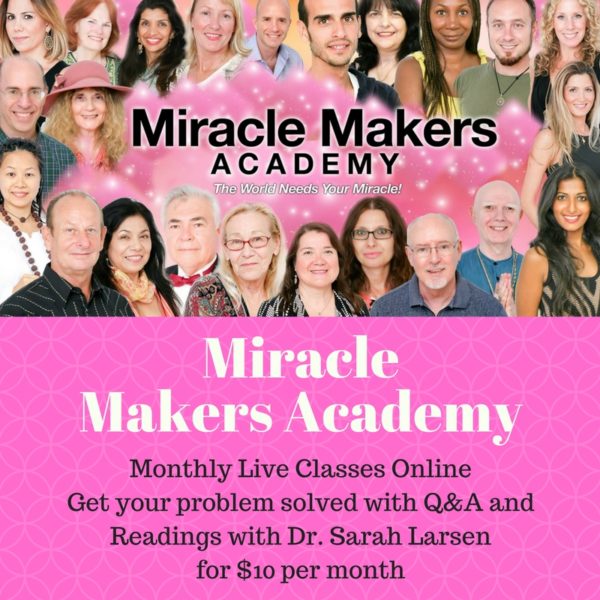 http://www.miraclemakersacademy.com/
Miracle Makers Academy
Welcome to Miracle Makers Academy! As a part of the community you will have access to:
1. Miracle making courses not published anywhere else
2. Dr. Sarah's group readings, mentoring, and coaching
3. Facebook Group – Miracle Makers Academy
4. Meditations custom made for the group
As soon as you sign up, you will have instant access to the Miracle Manifestation Method. Learn the secrets and strategies to manifesting in this 10-module course taught by Dr. Sarah Larsen and Ginger Metraux, PhD.
---


Miracle Makers with Dr Sarah Larsen on Universal Broadcasting Network Radio/TV
About the Show
MIRACLE MAKERS WITH SARAH LARSEN, MD
Happiness | Confidence | Relationship Advice | Law of Attraction | Motivation | Forgiveness
Dr. Sarah Larsen/UBN Radio: Holistic Medicine, Medical Intuitive, Energy Healer, Clairvoyant, Medium
HEARD THURSDAYS AT 12PM PT (3PM ET) ON UBN
Change!  Change is the only constant in our ever rapidly changing world!  How are you keeping up?  Are you at the forefront of all the changes in your life or are you being dragged along kicking and screaming? Miracle Makers is about embracing and igniting the miraculous, magical, and mysterious nature of our universe so we can navigate the changes in our lives consciously, fully expressed, guided by our hearts, and utilizing the law of attraction!  Join Dr. Sarah Larsen and co-host Greg Larsen as they offer relationship advice and explore how happiness, confidence, motivation, and forgiveness can powerfully shape our journey toward a life of success, fulfillment, and contribution!  Along with leading experts in the fields of self-help, personal growth, relationships, business and entrepreneurship, and spirituality, join them for this weekly live broadcast on UBN Radio/TV.
Sarah Larsen M.D. is considered one of the world's leading authorities on human behavior, eastern and western medicine and personal development. She won the "2015 Psychic of the Year" from Samira TV! She is a psychic, medium, medical intuitive, and energy healer!
Co-host of CRN Network's Divine Love Talk with Dr. Parthenia Grant

Dr. Sarah Larsen received a degree as a Medical Doctor from the Medical University of the Americas. She can be seen on TV and radio stations throughout the world on CRN network with it's 25 million subscribers.  She has taught tens of thousands of people to heal themselves, elevate the way they think, speak, and ultimately how they live.  She has produced record-breaking results in her clients that have applied her teachings.
Dr. Sarah Larsen, created the community Personal Development for Extraordinary People and is a transformational teacher and guide who inspires and empowers you in living purposefully and powerfully. Her work transforms people's lives very rapidly.  She is a world-class speaker, entrepreneur, artist and visionary whose work unites the world of business with essential wisdom of mind-body-spirit.
Since 1995, Dr. Larsen has searched ancient villages, remote monasteries and hidden texts to uncover their timeless secrets. Combining her discoveries with the best science of today, her medical education and research crosses the traditional boundaries of science, history, and religion offering fresh insights into ancient mysteries. She has connected our relationship to our inner and outer worlds, while sharing life-affirming message of unlimited possibility.
Her training and areas of expertise include: Allopathetic Medicine (Western), Ayurvedic Medicine (Eastern), Epigenetics, Edgar Cayce Medicine, Gersion Therapy, Homeopathy, Energy Healing & Anthroposophic Medicine. She has attended Medical Schools, trained in, and taught in the best hospitals in the world: Kastuba Medical College, Manipal India; University of West Indies, Trinidad and Tobago;