The 2018 Parliament of the World's Religions. The Oldest, Largest, Most Diverse and Inclusive Global Interfaith Event is Coming to Toronto!
Dr. Sarah will host a special tour with Miracle Makers!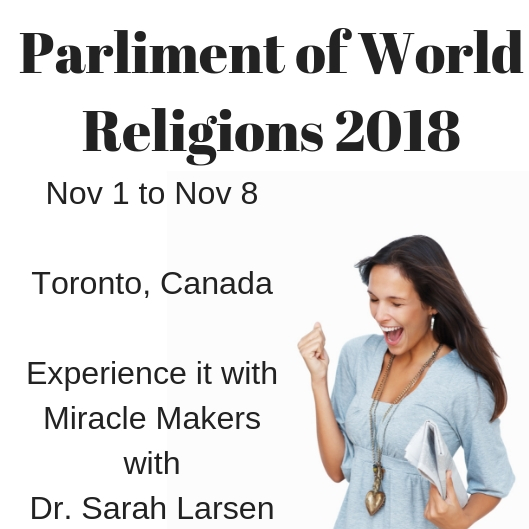 I want to experience "The Parliment of World Religions" with Dr. Sarah Larsen and the Miracle Makers.
I want to understand in these 7 days what I am here to create for the world, the great mysteries religion taps into, and how to get on my greatest path to contribute to this world.
Limited to 4 people
During Your Days with Dr. Sarah, You Will…
Gain tremendous clarity on  your purpose in life, a new or existing dream.

And discover brilliant shortcuts for accomplishing it miraculously, faster, and with greater ease.

Choose to make health/career/life changes to live a a fun, purpose-based life, with more meaning, resourceful, and fulfilling life.

You only have one body, Dr. Sarah will address all your body is communicting, "saying" and revealing. Your body cannot lie to you! You will learn what it is required for self healing!

Private session with Dr. Sarah to understand what may be blocking you, understand what you can do to change it and meet the most committed people in the world to help you.
Those at the Parliment of World Religion will use their Faith with you to  remove obstacles, fears or doubts. You can heal all past lives, trauma, and linage challenges in one meeting.

You are confident that your miracle, dream, and happiness is not only obtainable, but easily within your reach.

90 days online group follow up that will achieve real results within 90-days or a time-frame that works best for you.

Uncover the truth that you can charge a premium for your services that is beyond what you might currently think or believe.

Learn how to market yourself so others will hire, invest or partner with you. Practice life-changing skills to inspire important people to assist you.
Parliment of World Religions Trip is Especially Powerful If…
You are ready to make a career change, leave a company, start your own business or take your existing work to a new level.  These few days are tailored to work extremely well for you because you have an important message and wants to become a successful speaker, author, coach or consultant.
Apply on the phone: 424-903-6633 for this opportunity!
An investment like this in yourself only comes along once in a lifetime!
Covers Breakfast and lunch
Covers Lodging
Does not cover travel expenses or evening meal